Different options
As for which of the front end/preamps you'll choose depends largely on how you want to manage and play your digital library. Do you want to store music on a NAS drive or a computer remote from the listening room and 'pull' data using a network music player (streaming), or simply push data from a computer to a DAC? In acceding this to be a fundamental choice when setting up a computer audio system, Lindemann has made its Musicbook frontends either/or. If you want your preamp to be a USB DAC you'll choose the Musicbook 10 ($4,456.50). Add $571.78 and the Musicbook 15 ($5,028.28) includes CD playback as well. Meanwhile the Musicbook 20 ($6,138.20) omits an asynchronous USB input and features a network music player instead, designed to be operated via a tablet or smartphone. Finally – yes, you've guessed it – the $6,541.81 Musicbook 25 under scrutiny here is a Musicbook 20 'streaming preamp' with added CD playback functionality. A near-invisible slot-in CD mechanism sits above the front panel's display screen.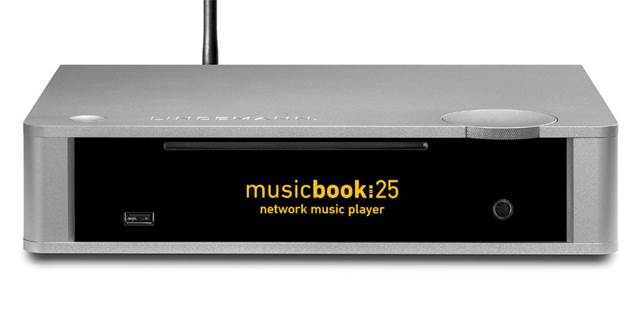 Multifunction wheel controls many functions but you'll drive it via its control app. USB port allows playback from FAT 16/32 formatted HDD and memory sticks, etc
All four Musicbook front ends are identically equipped with four (two RCA, two Toslink) digital inputs for other sources and, being fully-fledged analogue preamplifiers, two single-ended (RCA) analogue inputs – enough for a phono amplifier and an FM tuner or old tape deck, say.
They also feature discrete Class A headphone amplifiers whose volume can be controlled remotely and separately from the preamp's analogue outputs. And they all have two outputs (XLR and RCA) should you wish to feed two playback systems simultaneously, plus RCA and Toslink S/PDIF outputs – making it perfectly feasible to feed a third system. The Musicbooks' variable analogue outputs, governed by a resistor network to control volume in 1dB steps, can be 'fixed' to line level should you wish to connect them to an existing integrated amplifier. And in endeavouring for sonic purity, the digital outputs are disabled until activated via the setup menu. Also in the menu are settings for channel balance and display brightness.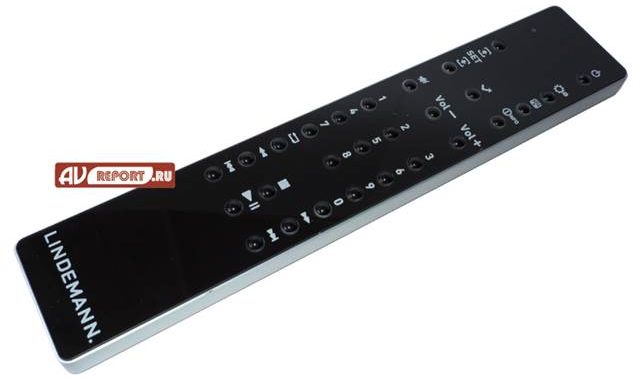 Lindermann Musicbook 25 Remote
You can control almost everything from the minimalist front panel whose multifunction dial adjusts volume (turn), selects an input (press and turn), mutes the output (short press) and stops/ejects a CD (press once and once again to eject). But to navigate tracks on a CD you'll need to use the accompanying remote controller – or Lindemann's Musicbook control app. The RCU is very nice, formed of aluminium and gloss black acrylic with an ultra-slim profile [see bottom of p31]. It's a shame it doesn't illuminate, as it's actually a rechargeable handset (via a mini USB socket). A charging cable is supplied.
Lindemann's free control apps for iOS and Android are of course essential for navigating and playing music files over the network. Operation proved seamless via my iPhone; album art display is included, and the app furthermore provides access to additional settings such as re-naming the Musicbook's 'Digital 1-4' and 'Analog 1-2' inputs to match your partnering ancillaries. Gapless playback is supported with WAV, AIFF, FLAC, ALAC and MP3 files. Streaming 192kHz/24-bit files requires a wired Ethernet connection; via WLAN the limit is 96kHz/24-bit. Naturally the UPnP/ DLNA network player functionality includes access to internet radio stations, the unit employing the ubiquitous vTuner platform.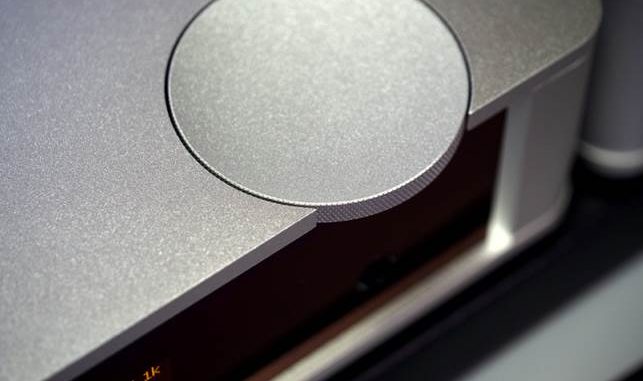 Lindermann Musicbook 25 Review 3
Lindermann's legacy
The German hi-fi manufacturing landscape is as vibrant as the British hi-fi scene once was. Among the country's many high-end audio companies is Lindemann audiotechnik GmbH, founded by Norbert Lindemann in 1992 and situated in Krailling, a 20-minute drive west of Munich. Having studied electronics in the '70s, Lindemann worked as an engineer for a PA company before making his passion for high fidelity replay his profession, by setting up his own company. The first Lindemann component was the AMP1 current mode integrated amplifier, soon followed by partnering BOX1 loudspeakers. The company boasts many innovations having introduced one of the world's first upsampling CD players and, in 2001, Lindemann's 820 disc spinner laid claim to being the first SACD player made in Germany. It's no longer in production, the $11,771.89 825 CD player/DAC being Lindemann's flagship source in its heavyweight 800 separates series. Lindemann still makes loudspeakers: its Birdland speaker range features bespoke ceramic-coned drivers by Accuton, housed in multi-layer composite enclosures formed of birch plywood, cork and furniture-grade linoleum.