Inviting balance
I found myself marginally preferring the sound of the Musicbook 25's CD playback to streaming music via my home network. Heck, there really wasn't much in it: only back-to-back A/B comparisons revealed a slight muting of dynamic contrasts and softening of transients. And my preference was easily turned on its head when listening to worthwhile hi-res audio files. For example, 'Oh Daddy' and 'The Chain' from Fleetwood Mac's Rumours appeared a smidgen more vivid and vital via compact disc than playing the WAV files (ripped using dBpoweramp) pulled from my 'digital library' via LAN and rendered by the Musicbook's network player.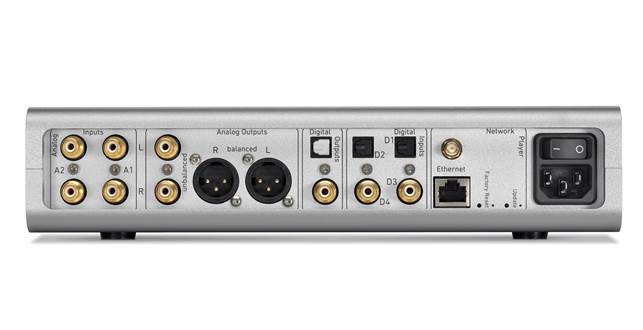 Four S/PDIF and two RCA analogue inputs should be adequate for most requirements. Power amp connection can be balanced (XLR) or single-ended (RCA)
But this marginal subjective difference was made irrelevant when streaming the laughably superior 96kHz/24-bit version stored in my computer HDD, ripped from my copy of the 2001 DVD-Audio release of this famous album.
The longer I listened to the Musicbook 25 the more I grew to admire its voicing, its invitingly warm balance and delicate treble: not too smooth or over-sweetened. This meant that the sharp attack of the late Stevie Ray Vaughan's evergreen 'Tin Pan Alley (aka Roughest Place In Town)' from Couldn't Stand The Weather [Epic Legacy EPC 494130 2] had plenty of energy and dynamism, the leading-edge bite of the guitar sharply etched and suitably angry.
Similarly, Vaughan's bombastic interpretation of Jimi Hendrix's 'Voodoo Chile (Slight Return)' fizzled with power and passion, with the driving bass and drums of the accompanying Double Trouble combo appearing faithfully vital, with real speed and attack, while the sound of Tommy Shannon's bass guitar was deep and well-formed, and the cymbals of Chris Layton's drum kit rang and sizzled with convincing authenticity.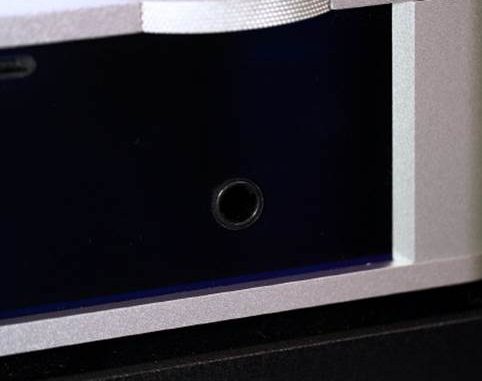 Lindermann Musicbook 25 Review 4
Relaxed demeanour
Moreover, with what you might term 'run of the mill' pop and rock recordings the network player's subtle 'softening' could often be judged advantageous, as it obviated excessive brightness and listening fatigue. You wouldn't – or at least you shouldn't – judge the capability of a hi-fi component listening to shoddy recordings and low bitrate internet radio stations, but the fact that the Musicbook 25 doesn't throw a spotlight on sonic deficiencies might be considered a boon for many music collectors.
Lindermann Musicbook 25 Review 5
Playing Nora Jones's Feels Like Home[192kHz/24-bit download from HDtracks] the Musicbook 25 sounded all of a piece, Jones' close-miked breathy vocals appearing to hover seductively in the soundstage in 'Sunrise' and remaining intimate and vivid in 'What Am I To You', with its thicker production quality.
Thanks to the player's smooth and relaxed demeanour female vocals fared particularly well throughout the listening tests. The title track from 2011's Paper Airplane by Alison Krauss & Union Station [Rounder 11661 06652] was a fine exemplar of the Lindemann's ability to serve up a three-dimensional image, with Alison Krauss's voice depicted exquisitely in the deep soundstage.
Skimming through a selection of audiophile hi-res recordings from AIX, Channel Classics, 2L and Reference Recordings confirmed the Musicbook's compatibility with all sampling rates up to 192kHz. It also substantiated the '25's extremely satisfying sound quality, showing that it was more than capable of corroborating the benefits of increased recording resolutions.
Only if you crave uber-accurate instrumental separation and forensic detail might you feel slightly shortchanged. Then you'll need to dig wa-ay deeper into your savings. Lindemann's Musicbook 25 is, after all, considerably cheaper than many audiophiles' compact disc players – never mind that it constitutes a 24-bit/192kHz-capable network music player, DAC, headphone amp and analogue preamplifier all housed as one compact component. It certainly makes a convincing argument for 'downsizing'.
Hi-fi news verdict
Used both as a network player and when playing CDs, the Musicbook 25 sounds highly civilised, with a rich midband and pleasing treble devoid of digital 'grain'. It is expensive for sure, but considering the unit's luxurious build quality and comprehensive functionality, not to mention its pleasingly compact form factor, it crafts a pretty esoteric hi-fi experience and thus it can be warmly recommended.
Sound quality: 78%
Hi-fi news specifications
·         Maximum output level (Balanced): 3.95Vrms at 97ohm
·         A-wtd S/N ratio: 107.8dB
·         Distortion (1kHz, 0dBFs/–30dBFs): 0.0009% / 0.0004%
·         Dist. & Noise (20kHz, 0dBFs/–30dBFs): 0.00045% / 0.0005%
·         Frequency response (20Hz-20kHz): +0.0dB to –0.3dB
·         Digital jitter (48kHz/96kHz/192kHz): 12psec / 15psec / 18psec
·         Resolution @ –100dB: ±0.1dB
·         Power consumption: 12W (1W standby)
·         Dimensions(WHD) / Weight: 280x65x220mm / 3.5kg