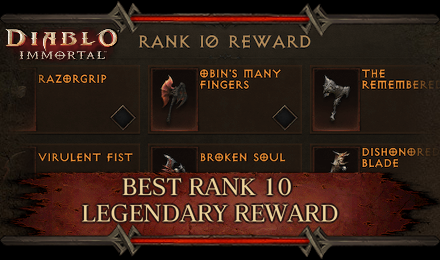 In Diablo Immortal, you can get free legendary rewards from Battle Bass without paying for Empowered Pass. This article will show you Diablo Immortal Best Rank 10 Legendary Rewards for all classes, as well as six possible Legendary weapons.
Diablo Immortal Best Rank 10 Legendary Rewards
To gain access to the Battle Pass, complete the main story mission and travel to the Mad King's Breach. As you progress through the Battle Pass, you'll receive various rewards, each of which contains one Legendary reward. The best part about obtaining the Battle Pass is that you will be able to claim up to six legendary weapons in total. The reward varies depending on the class.
Barbarian Rewards
The Remembered is a legendary weapon available as a Barbarian reward. It is a sidearm weapon capable of summoning the Spirit of the Ancient to distract enemies. This will also help you with single-target damage, which is a weakness of the Barbarian.
Crusader Rewards
The Crusader class claims Pavice of Ten Wings as a Legendary reward. Pavice of Ten Wings can add 10% damage to your Spinning Shield and make the shield spinning around.
Demon Hunter Rewards
Crossbow Shot, the Demon Hunter's main skill, pierces and deals more damage, so most players should choose The Hungerer. What's not to love about this?
Monk Rewards
Eye of the Storm is a Legendary reward for the Monk class. This is an off-hand weapon that is only available to Monks. It reduces the cooldown by 10% while increasing the radius of the Monk class's main skill, Cycle of Strife, by 20%.
Necromancer Rewards
The reward weapon for Necromancer is called Baleful Trinity. This is an off-hand weapon as well. It boosts the overall strength of your primary attacks, which is where the Necromancer excels.
Wizard Rewards
Finally, Siphon is a Legendary reward for the Wizard class. The Siphon increases movement speed by 60%, which is critical for staying mobile and combo-ing kills for bonus experience points.
Should I Save My Rewards Until Later?
Because the stats of weapons and equipment (including free rewards) scale with your current level, it is strongly advised that you wait until level 60 to claim Battle Pass and Prodigy's Path equipment rewards.
 For comparison, let's take a look at the stats for Pavice of Ten Wings at different levels. If you care about getting the the best stats for your gear, try to hold off on claiming your rewards.
Diablo Immortal Wiki
Diablo Immortal
Developer(s)
Publisher(s)
Blizzard Entertainment
Director(s)
Wyatt Cheng
Series
Diablo
Platform(s)
Release
June 2, 2022
Genre(s)

Action role-playing
Massively multiplayer online

Mode(s)
Multiplayer