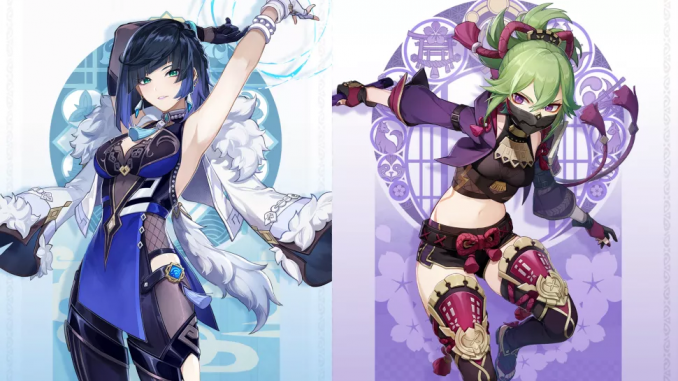 Genshin Impact 2.8 released date :
Genshin Impact version 2.8 is set to release on  July 13, 2022. While an official release time hasn't been released yet, previous updates have followed a similar schedule. You can expect version 2.8 to be released at 11 am (UTC+8) – or 3AM GMT / 4AM CEST / 7PM PST July 12 / 10 PM EST July 12.
Shikanoin Heizou ‧ Analytical Harmony
Detective of the Tenryou Commission

A young detective from the Tenryou Commission. Free-spirited and unruly, but cheerful and lively.#GenshinImpact pic.twitter.com/rmHuQ6egKt

— Genshin Impact (@GenshinImpact) May 16, 2022
Genshin Impact 2.8 Maintenance time :
Maintenance will start around 3pm PT / 6pm ET / 11pm BST and should end within five hours. Genshin Impact updates usually go live 30 to 60 minutes before the scheduled maintenance resolution. 
Genshin Impact version 2.8 banners :
Sparkling Steps – Phase 1 – Klee (five star) / Heizou (four star)
Leaves in the Wind – Phase 1 – Kazuha (five star) / Heizou (four star)
Tapestry of Golden Flames – Phase 2 – Yoimiya (five star) / unknown
Genshin Impact update Schedule 2022 leaks :
1. Genshin Impact Version 2.8
Release Date: July 13, 2022
Characters: Kazuha, Klee (Possibility: Story related), Eula (Possibility)
2. Genshin Impact Version 3.0
Release date: around August 3 2022
Characters: Yaoyao, Baizhu (Possibility: Story Related)
3. Genshin Impact Version 3.1
Release Date: September 14, 2022
Characters: Kusanali – Dendro Archon (Possibly)
4. Genshin Impact Version 3.2
Release Date: October 26, 2022
Characters: Cyno (Possibility – Story Related)
5. Genshin Impact Version 3.3
Release Date: December 7, 2022
Characters: Scaramouche (Possibly)
Genshin Impact wiki :
Developer(s)
miHoYo
Publisher(s)
miHoYo
Producer(s)
Hugh Tsai[1]
Composer(s)
Yu-Peng Chen
Engine
Unity
Platform(s)

Android
iOS
Microsoft Windows
PlayStation 4
PlayStation 5

Release

Android, iOS, Windows, PS4
September 28, 2020
PlayStation 5
April 28, 2021
Nintendo Switch
TBA

Genre(s)
Action role-playing
Mode(s)
Single-player, multiplayer
The Latest Games News : Release date , Patch Notes , game events & update , Game Leaks & up comming