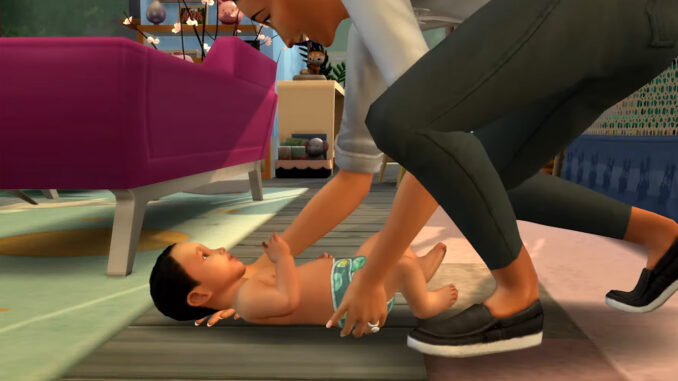 The Sims 4 Baby Update: Release Date
There is currently no official release date for the Sim 4 Baby update, but we predict it will fall sometime in early 2023.
I am SO EXCITED! The team has been working on this for SOOOOOOO LONG and they are coming next year! #BehindTheSims #TheSims4 pic.twitter.com/MniKu67pVh

— SimGuruFrost (@SimGuruFrost) October 18, 2022
What will Better Babies change in The Sims 4?
After the Better Babies update, babies in The Sims 4 will no longer be confined to cribs and will now move around. This means babies will be counted as people in The Sims 4 after the update, not just objects.
It's currently unclear exactly what changes the Better Babies update will bring, but the short trailer shows a baby crawling on the floor outside of the crib and being picked up by his mother. This already represents a major upgrade over what we had before.
The Sims 4 wiki :
Developer(s)
Maxis
Publisher(s)
Electronic Arts
Director(s)

Michael Duke
Berjes Enriquez
Jim Rogers
Robert Vernick

Producer(s)

Kevin Gibson
Grant Rodiek
Ryan Vaughan

Designer(s)

Eric Holmberg-Weidler
Matt Yang

Artist(s)

Magnus Hollmo
Samantha Miceli
Steven Ross

Writer(s)
Danielle von Mayrhauser
Composer(s)
Ilan Eshkeri
Series
The Sims
Platform(s)

Windows
OS X
PlayStation 4
Xbox One

Release
Windows

NA: September 2, 2014
EU/AU: September 4, 2014
UK: September 5, 2014

OS X

PlayStation 4, Xbox One

Genre(s)
Social simulation
Mode(s)
Single-player