What is Heardle and How To Play ?
Heardle is a puzzle game that helps relieve stress and anxiety by distracting our minds. This game rejuvenates the entire mood with its relaxing music and beautiful images. You can only play the game on the Heardle website. The website updates at midnight your local time , today's Heardle gives you a hint to play a relaxing song, but the twist comes when he plays electrifying mixed music, making it pretty hard to guess. Hit the play button to hear the first second of the song. Then use the text box to search for the song you think it is. Select your choice, then select Submit. You will see if your guess was correct or incorrect. If you don't get the song in six tries, it's game over. You also can find All Heardle Answers in this page .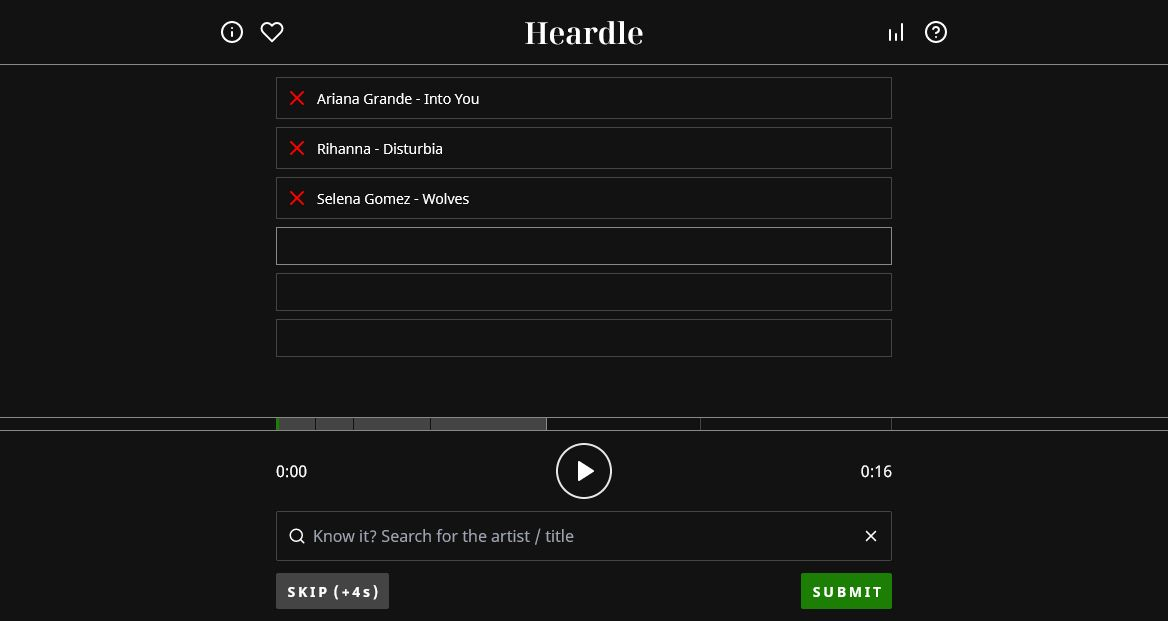 Today's Heardle 121 Clues for June 26 :
Released in 1990
Genre – Disco
Single by Deee-Lite
Five Words
Song name begins with a G.
Today's Heardle answer 121 : 
Heardle June 26: Groove Is In The Heart – Deee-Lite
All Heardle
Answers :
#120 June 25— Rock With You – Michael Jackson
#119 June 24— Pony – Ginuwine
#118 June 23—The Smiths—There is a Light That Never Goes Out
#117 June 22—Chic—Good Times
#116 June 21—The Foundations—Good Times
#115 June 20—Goo Goo Dolls—Iris
#114 June 19—Aretha Franklin—Respect
#113 June 18—Christina Aguilera—Genie in a Bottle
#112 June 17—Usher—Yeah! (ft. Lil Jon & Ludacris)
#111 June 16—David Bowie—Let's Dance
#110 June 15—One Direction—What Makes You Beautiful
#109 June 14—Simon & Garfunkel—Bridge Over Troubled Water
#108 June 13—Tracy Chapman—Fast Car
#107 June 12—Green Day—Good Riddance (Time of Your Life)
#106 June 11—Calvin Harris and Disciples—How Deep is Your Love
#105 June 10—The Emotions—Best of My Love
#104 June 9—Wu-Tang Clan—CREAM (Cash Rules Everything Around Me)
#103 June 8—The Temper Trap—Sweet Disposition
#102 June 7—Prince—When Doves Cry
#101 June 6—Roy Orbison—Oh, Pretty Woman
#100 June 5—Marvin Gaye—Sexual Healing
#99 June 4—Mariah Carey—Fantasy
#98 June 3—MGMT—Electric Feel
#97 June 2—Eagles—Hotel California
#96 June 1—Alanis Morissette—Ironic
May 2022
#95 May 31—Pharrell Williams—Frontin'
#94 May 30—AC/DC—Back in Black
#93 May 29—Elvis Presley—Can't Help Falling in Love
#92 May 28—Britney Spears—Toxic
#91 May 27—Robin S—Show Me Love
#90 May 26—Depeche Mode—Personal Jesus
#89 May 25—Backstreet Boys—I Want it That Way
#88 May 24—Bob Dylan—Like a Rolling Stone
#87 May 23—Alicia Keys—If I Ain't Got You
#86 May 22—Joy Division—Love Will Tear Us Apart
#87 May 21—The Notorious Big—Juicy
#84 May 20—Justin Timberlake—Like I Love You
#83 May 19—Miley Cyrus—Wrecking Ball
#82 May 18—Deep Purple—Smoke on Water
#81 May 17—George Michael—Freedom '90
#80 May 16—Wild Cherry—Play That Funky Music
#79 May 15—Paul Simon—You Can Call Me AL
#78 May 14—Toploader—Dancing in the Moonlight
#76 May 12—a-Ha—Take On Me
#75 May 11—Santa—Maria Maria (ft. The Product G&B)
#74 May 10—Blue Oyster Cult—(Don't Fear) The Reaper
#73 May 9—Jamiroquai—Virtual Insanity
#72 May 8—Kate Bush—This Woman's Work
#71 May 7—Cyndi Lauper—Girls Just Want to Have Fun
#70 May 6—Stardust—Music Sounds Better With You
#69 May 5—TLC—No Scrubs
#68 May 4—Ed Sheeran—Shivers
#67 May 3—Busta Rhymes & Mariah Carey—I Know What You Want (ft. Flipmode Squad)
#66 May 2—The Bangles—Manic Monday
#65 May 1—Rage Against the Machine—Killing in the Name
April 2022
#64 April 30—NSYNC—It's Gonna Be Me
#63 April 29—Candi Staton—Young Hearts Run Free
#62 April 28—Lisa Loeb & Nine Stores—Stay (I Missed You)
#61 April 27—Joan Jett & The Blackhearts—I Love Rock 'n' Roll
#60 April 26—Amerie—1 Thing
#59 April 25—Rolling Stones—(I Can't Get No) Satisfaction
#58 April 24—Lauryn Hill—Ex-Factor
#57 April 23—Mark Morrison—Return of the Mack
#56 April 22—Shakira—Whenever, Wherever
#55 April 21—Harry Styles—Adore You
#54 April 20—Snoop Dogg & Wiz Khalifa—Young, Wild & Free (ft. Bruno Mars)
#53 April 19—Arctic Monkeys—I Bet You Look Good on the Dancefloor
#52 April 18—Annie Lennox—Walking On Broken Glass
#51 April 17—Fatboy Slim—Praise You
#50 April 16—Cheryl Lynn—Got To Be Real
#49 April 15—Oasis—Wonderwall
#48 April 14—Camila Cabello—My Oh My feat. DaBaby
#47 April 13—Pink—Get The Party Started
#46 April 12—Koffee—Toast
#45 April 11—Red Hot Chili Peppers—Californication
#44 April 10—John Legend—Ordinary People
#43 April 9—Luther Vandross—Never Too Much
#42 April 8—Abba—Dancing Queen
#41 April 7—Fugees—Ready Or Not
#40 April 6—Led Zeppelin—Immigrant Song
#39 April 5—Spice Girls—Wannabe
#38 April 4—Silk Sonic—Leave The Door Open
#37 April 3—Daryl Hall and John Oates—You Make My Dreams Come True
#36 April 2—M.I.A.—Paper Planes
#35 April 1—Rick Astley—Never Gonna Give You Up
March 2022
#34 March 31—Cardi B—Up
#33 March 30—Ace of Base—All That She Wants
#32 March 29—Missy Elliott—Get Your Freak On
#31 March 28—Foo Fighters—Learn To Fly
#30 March 27—Dolly Parton—Jolene
#29 March 26—DJ Jazzy Jeff & The Fresh Prince—Summertime
#28 March 25—Mark Ronson—Valerie feat. Amy Winehouse
#27 March 24—Linkin Park—Numb
#26 March 23—The Kid LAROI.—Stay feat. Justin Bieber
#25 March 22—Destiny's Child—Independent Women, Pt. 1
#24 March 21—Wizkid—Essence feat. Tems
#23 March 20—Bruno Mars—Locked Out of Heaven
#22 March 19—Al Green—Let's Stay Together
#21 March 18—Daft Punk—Harder, Better, Faster, Stronger
#20 March 17—Madonna—Like a Virgin
#19 March 16—Childish Gambino—Redbone
#18 March 15—Blur—Song 2
#17 March 14—Lizzo—Truth Hurts
#16 March 13—Wheatus—Teenage Dirtbag
#15 March 12—Whitney Houston—I Wanna Dance With Somebody Who Loves Me
#14 March 11—Rihanna—Rude Boy
#13 March 10—Lil Nas X—That's What I Want
#12 March 9—Outkast—Ms. Jackson
#11 March 8—Kings of Leon—Use Somebody
#10 March 7—Ariana Grande—7 Rings
#9 March 6—Kanye West—Black Skinhead
#8 March 5—Fleetwood Mac—Dreams
#7 March 4—Beyonce—Halo
#6 March 3—Doja Cat—Streets
#5 March 2—Nirvana—Smells Like Teen Spirit
#4 March 1—Benny Blanco feat. Halsey and Khalid—Eastside
February 2022
#3 February 28—Coldplay—The Scientist
#2 February 27—Adele—Set Fire to the Rain
#1 February 26—Dua Lipa—Levitating