What is Heardle and How To Play ?
Heardle is a puzzle game that helps relieve stress and anxiety by distracting our minds. This game rejuvenates the entire mood with its relaxing music and beautiful images. You can only play the game on the Heardle website. The website updates at midnight your local time , today's Heardle gives you a hint to play a relaxing song, but the twist comes when he plays electrifying mixed music, making it pretty hard to guess. Hit the play button to hear the first second of the song. Then use the text box to search for the song you think it is. Select your choice, then select Submit. You will see if your guess was correct or incorrect. If you don't get the song in six tries, it's game over. You also can find All Heardle Answers in this page .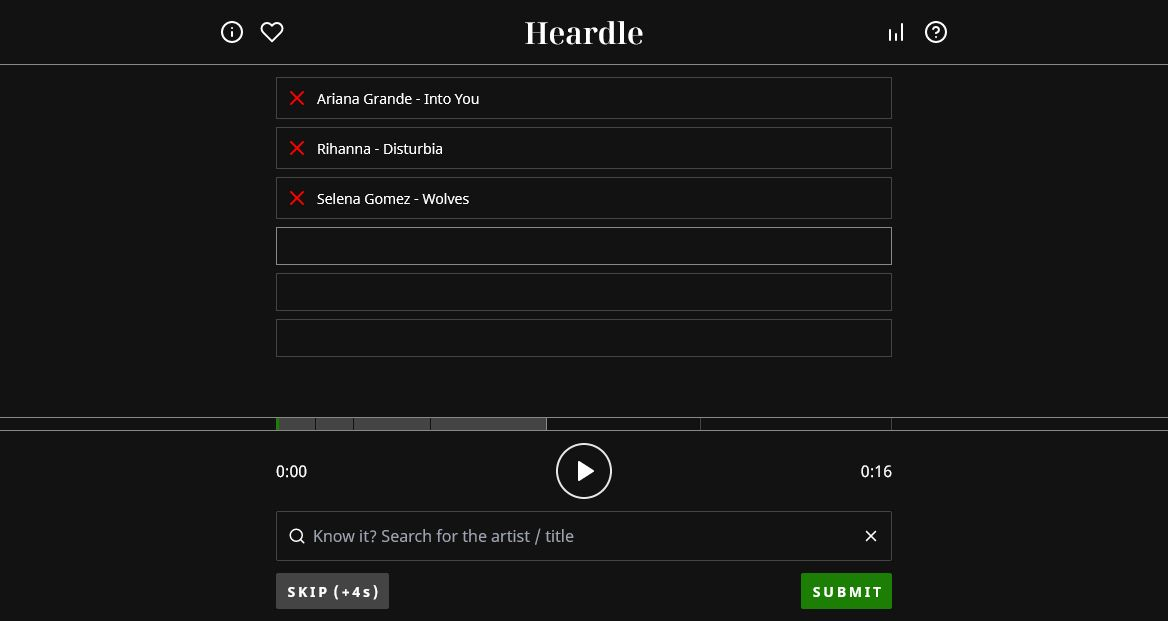 Today's Heardle 171 Clues for August 14 :
Hint 1: Released in 1997
Hint 2: Single by The Verve
Hint 3: Genre – Britpop
Hint 4: From the album Urban Hymns
Hint 5: Three words in the song name
Hint 6: Begins with a B and ends with an Y.
Today's Heardle answer 171 : 
Heardle August 14 : Bitter Sweet Symphony – The Verve
All Heardle
Answers :
#170 August 13 — Sunshine Of Your Love by Cream
#169 August 12 — Chocolate – The 1975
#168 August 11 — Wonderful Tonight by Eric Clapton
#167 August 10 — Basket Case – Green Day
#166 August 9— Misery Business – Paramore
#165 August 8— Riptide – Vance Joy
#164 August 7— Somebody That I Used To Know – Gotye
#163 August 6— Sympathy For The Devil – The Rolling Stones
#162 August 5— Escape (The Pina Colada Song) – Rupert Holmes
#161 August 4— Blue (Da Ba Dee) – Eiffel 65
#160 August 3— Do I Wanna Know? by Artic Monkeys
#159 August 2— Raise your glass by Pink
#158 August 1— Would? By Alice in Chains
#157 July 31— Say So – Doja Cat
#156 July 30— When I Come Around – Green Day
#155 July 29— Ex's and Oh's by Elle King
#154 July 28— Hungry Like the Wolf by Duran Duran
#153 July 27— Before He Cheats by Carrie Underwood
#152 July 26— White Wedding – Pt. 1 by Billy Idol
#151 July 25— The Bones by Maren Morris
#150 July 24— Interstate Love Song – Stone Temple Pilots
#149 July 23— Take Your Mama – Scissor Sisters
#148 July 22— Joker and the Thief
#147 July 21— Make Me Feel – Janelle Monae
#146 July 20— Paradise by the Dashboard Light by Meat Loaf
#145 July 19— Lisztomania – Phoenix
#144 July 18— Island in the Sun by Weezer
#143 July 17— Modern Love – David Bowie
#142 July 16— Cheap Thrills – Sia
#141 July 15— La Grange – ZZ Top
#140 July 14— High and Dry – Radiohead
#139 July 13— My Chemical Romance
#138 July 12— We Are Young – Fun
#137 July 11— Seconds – So Solid Crew
#136 July 10— Smooth Operator – Sade
#135 July 9— Turn Me On – Kevin Lyttle
#134 July 8— Praise The Lord – ASAP Rocky
#133 July 7— Rewind – Craig David
#132 July 6— If You Had My Love – Jennifer Lopez
#131 July 5— Hungry Eyes – Eric Carmen
#130 July 4— Stressed Out – Twenty One Pilots
#129 July 3— Straight Up – Paula Abdul
#128 July 2— Dead or Alive – You Spin Me Round
#127 July 1— Pink Floyd – Another Brick In The Wall, Pt. 2
#126 June 30— Arcade Fire – The Suburbs
#125 June 29— Tones And I – Dance Monkey
#124 June 28— Don't Stop Believin' – Journey
#123 June 27— For The Love Of Money – The O Jays
#122 June 26— Groove Is In The Heart – Deee-Lite
#121 June 25— Rock With You – Michael Jackson
#120 June 24— Pony – Ginuwine
#119 June 23—The Smiths—There is a Light That Never Goes Out
#118 June 22—Chic—Good Times
#117 June 21—The Foundations—Good Times
#116 June 20—Goo Goo Dolls—Iris
#115 June 19—Aretha Franklin—Respect
#114 June 18—Christina Aguilera—Genie in a Bottle
#113 June 17—Usher—Yeah! (ft. Lil Jon & Ludacris)
#112 June 16—David Bowie—Let's Dance
#111 June 15—One Direction—What Makes You Beautiful
#110 June 14—Simon & Garfunkel—Bridge Over Troubled Water
#109 June 13—Tracy Chapman—Fast Car
#108 June 12—Green Day—Good Riddance (Time of Your Life)
#107 June 11—Calvin Harris and Disciples—How Deep is Your Love
#106 June 10—The Emotions—Best of My Love
#105 June 9—Wu-Tang Clan—CREAM (Cash Rules Everything Around Me)
#104 June 8—The Temper Trap—Sweet Disposition
#103 June 7—Prince—When Doves Cry
#102 June 6—Roy Orbison—Oh, Pretty Woman
#101 June 5—Marvin Gaye—Sexual Healing
#100 June 4—Mariah Carey—Fantasy
#99 June 3—MGMT—Electric Feel
#98 June 2—Eagles—Hotel California
#97 June 1—Alanis Morissette—Ironic