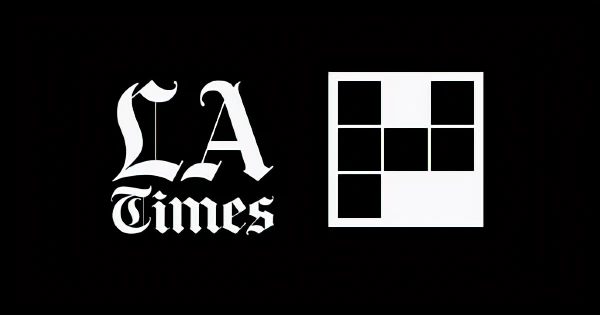 What does LA Times Crossword Puzzle means ?
LA Times Crossword Puzzle (is a daily crossword puzzle edited by Rich Norris. You can play the game 7 days a week where the difficulty of the game (according to many) increases from Monday to Sunday.
How to play LA Times crossword online?
Play FREE online games at LATIMES.COM We're excited to introduce old favorites like our Daily Crossword and Daily Sudoku, along with a wide variety of card games, puzzle games, and arcade games.
Today's LA Times Crossword Clues & Answers for November 17 2022 :
DOWN
| | |
| --- | --- |
| Clue | Answer |
| Square dance figure | CALLER |
| Fútbol cheer | OLEOLE |
| Removed with ones chompers | BITOFF |
| Abrasive tool | RASP |
| Bat wood | ASH |
| Legal challenge | APPEAL |
| Manitoba people | CREE |
| Deceives | MISLEADS |
| Genre with introspective lyrics | EMO |
| On | ATOP |
| Endorse without reading say | ROBOSIGN |
| Makeshift storage container for brushes | PAINTCAN |
| Becomes more inclined? | STEEPENS |
| That sounds rough! | OHMAN |
| River through Orsk | URAL |
| Employ | USE |
| Trailer park parkers for short | RVS |
| Ryder rival | UHAUL |
| Stiff and Bonk writer Mary | ROACH |
| Contribute | ADD |
| Out of the ordinary | ODD |
| Sister Carrie novelist Dreiser | THEODORE |
| E-ZPass stretch say | TOLLROAD |
| Educate | INSTRUCT |
| Virtual citizens in a video game | SIMS |
| Lingus | AER |
| Levity | MIRTH |
| Eww! | ICK |
| Flinches | WINCES |
| Happy cry from someone who finally deciphers a Magic Eye picture | ISEEIT |
| Salsa ingredient | TOMATO |
| Years in Rome | ANNI |
| Spy-fi villain in a Nehru jacket | DRNO |
| Southeast Asian language | LAO |
| Software glitch | BUG |
ACROSS
| | |
| --- | --- |
| Clue | Answer |
| Mamba kin | COBRA |
| Peak | APEX |
| Some Dada pieces | ARPS |
| Cover name | ALIAS |
| and proper | PRIM |
| Exactly | TOAT |
| Fingers crossed | HOPESO |
| Theater award | OBIE |
| Art Institute of Chicago area with the | LOOP |
| Come with me Spot! | HEEL |
| Slightly ahead | UPONE |
| One with pointy ears and pointy shoes | ELF |
| Actress Thurman | UMA |
| Unintentionally reply all say | ERR |
| Longtime NASCAR sponsor | STP |
| Denial | REFUSAL |
| Miserly desire | AVARICE |
| Egg layer | HEN |
| Catchy pitch | ADSLOGAN |
| Flour used for naan and paratha | ATTA |
| We card cards for short | IDS |
| Novelists Patchett and Petry | ANNS |
| Grand | THOUSAND |
| Open __ night | MIC |
| Furry toy spiders that move when screamed at | YELLIES |
| Kansas home of McConnell Air Force Base | WICHITA |
| Capitol Hill fig. | POL |
| Boars mate | SOW |
| Elba of Cats | IDRIS |
| Tirade | RANT |
| Floor model | DEMO |
| Murmurs lovingly | COOS |
| Midday hiatus illustrated three times in this puzzle | LUNCHBREAK |
| Asias vanishing __ Sea | ARAL |
| Juvenile outburst? | ACNE |
| Mother of Castor and Pollux | LEDA |
| Spunkmeyer | OTIS |
| Did well together | GOTON |