Arcam's latest FMJ A19 is one affordable integrated amplifier that likes to party. We dust down his glad rags…
One fateful moment back in 1984, when A&R Cambridge product planners were wondering where next to take their excellent and hugely popular A60 amplifier; someone had the bright idea to make the 'Arcam' Alpha. As well as the shortened name, it introduced a new design language, with a molded gunmetal grey fascia and a taller case, plus a new price point of under $225. It seemed radical at the time, not least because the company had traditionally been very much a higher end brand. But the Arcam Alpha set the template for a series of fine 'affordable' amplifiers, which this FMJ A19 is the latest and (so Arcam reckons) greatest.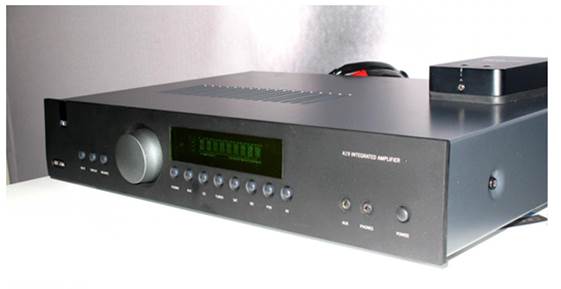 Arcam FMJ A19 Integrated
Selling for not too dissimilar a price – if you factor in the passing of time and the ravages of inflation – the A19 wears its 28 years of development well. The guys at Huntingdon have obviously done more than scratch their noses over the intervening decades, as here we have a beautifully styled, built and finished product that is to the Alpha what the latest Apple Mac is to an Amstrad 2086. In every aspect from ergonomics and connectivity to power and performance, here we have proof that progress is a good thing. This new Arcam amplifier is an extremely slick customer.
Phono stage
Who'd have thought that nearly 30 years later Arcam's latest amplifier would have a phono stage? But there it is a moving magnet one. For those that don't require such a thing pressing the phono and balance buttons together toggles between phono and line level settings.
There's a headphone output too – via the portable-oriented 3.5mm mini-jack, with what's said to be a completely new circuit designed to drive it. It automatically mutes the loudspeakers, but the alphanumeric front panel display duly informs you that it's now playing out through your cans, lest you wonder why the speakers have gone quiet.

There's a headphone output too – via the portable-oriented 3.5mm mini-jack, with what's said to be a completely new circuit designed to drive it.
In addition to no less than seven pairs of RCA phono inputs around the back, there's a front panel mounted 3.5mm socket for iPods and their ilk, plus a pre-out and record outs on the back panel. The latter is a relatively crowded affair as $975 integrated amplifiers go, and unusually sports a 3.5mm mono jack socket for the accessory power cable; this gives two 2.1mm DC jacks to power Arcam's rLink or rBlink accessories. Under the hood, the FMJ A19 follows the company's best practice with the obligatory well-specified toroidal transformer, cleanly laid out boards and neat wiring, all set onto a resonance-damped chassis that certainly doesn't rattle with the carefree abandon of some rivals. Good quality passive components are specified, and the chipbased Class AB power output section pushes out a claimed 50W into 8ohms. The amp comes in a charcoal grey finish, and an Arcam CR108 remote control is supplied.
Sound quality
Arcam has been making fine-sounding affordable solid-state amplifiers for many years and the FMJ A19 isn't a radical change of direction. It's a quintessential Waterbeach product, possessed of a big, generous – almost rich bass, a nicely wide and musical mid-band and a sweet, smooth top end. Sometimes Arcam amps are a little smooth for their own good, tending to polish some of the music's rhythmic drive out of the recording, but happily the A19 isn't guilty of this. Indeed, I'm quite surprised by its overall enthusiasm for the job in hand.
Feed this little amplifier with a big, pulsating slice of reggae for example – in the shape of Linton Kwesi Johnson's Bitch Dub and even through Spendor D7 loudspeakers (which at $5,250 are more expensive than you'd typically partner this amplifier with), the Arcam gets stuck in. It shows itself to be able to project an unusually wide soundstage at the price, further augmented by that characteristically sumptuous low end that Creek and Cyrus rivals lack. At the same time, things don't submerge into a sea of low frequencies, as the amp keeps a grip on things happening further up the audio band. It is great with the song's percussion work, serving up some deliciously crisp rim shots and a brilliantly believably hi-hat sound.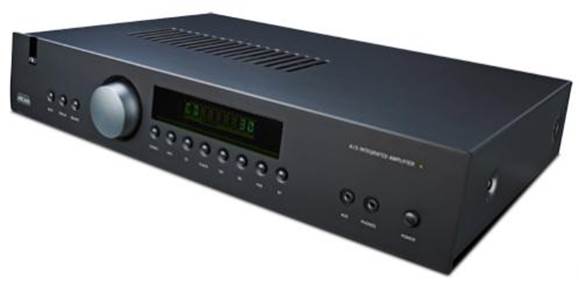 Arcam has been making fine-sounding affordable solid-state amplifiers for many years and the FMJ A19 isn't a radical change of direction.
Although it gives the impression of having far more power than its rated 50W output figures suggest – and will certainly out-drag the Cyrus 6a in the loudness stakes – it is, of course, mortal and won't knock the house down. But impressively, even pretty close to full tilt the FMJ A19 stays graceful yet dynamic, with little signs of it sitting on transient peaks and/or losing its wig. This is a natural boon with the classic reggae strains of LKJ, but you also feel the benefit 3 RCA phono MM input 5 Loudspeaker binding posts on atmospheric rock music such as Roxy Music's More Than This. Once again it throws out a cathedral-like expanse of sound, capturing the gliding backing synths and gently riffing electric guitars beautifully behind an almost ethereal vocal from Brian Ferry. At the same time, even at high volume levels, there is little sense of the drum or bass guitar tracks losing the fight – things staying tight, punchy and always in control.
Arcam has put together an expertly packaged device offering the right amount of power and features
Rhythmically, Kraftwerk's Tour de France Soundtracks Etape 3 is a pretty stern test of any amplifier's grip of a loudspeaker, and the Arcam impresses in many ways. While it proves so generous low down that at high levels one was often on the verge of thinking this is going to end in tears – with the amp descending into a glop of low-frequency chaos – actually it never does. At the same time, it shows Great Spirit in the mid-band; it lacks the forensic insight of the Creek Evolution 50A here, making everything sound just a little more diffuse and out of focus, but still musically it is never less than totally coherent. While the Creek is definitely tighter, crisper and more detailed, I'm not sure it is quite as nice to cuddle up with the music to.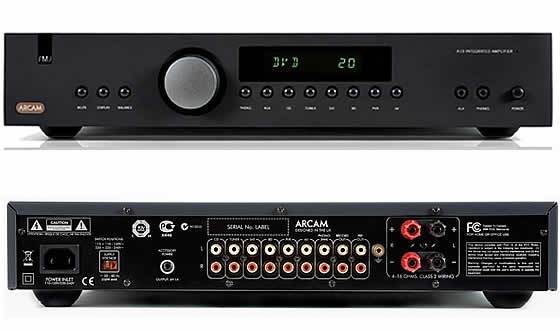 Arcam has put together an expertly packaged device offering the right amount of power and features
Cueing up some classic eighties rock in the shape of REM's Near Wild Heaven, the FMJ A19 again shows its mettle, providing a widescreen sound with a gutsy bottom end and plenty going on further up. Again, I find this to be a detailed amplifier well able to resolve the subtleties of this clean analogue recording, although it doesn't bristle with low-level information like the Creek Evolution 50A can. Nor is there the latter's dynamic prowess, the Arcam sitting on the very loudest crescendos just a tad more than it should. But funnily enough I still find myself beguiled by this product in a way that the Creek doesn't quite manage – it has the fluidity and lyricism of a good valve amp, which is something I don't always write in an Arcam amplifier review! I'd go as far as saying it's a dramatic improvement over the company's earlier offerings at this price point, in this respect.
It is only with classical music that the Arcam sounds anything but fabulous. An Esoteric SACD of Mozart's Piano Concerto No.20 (Curzon, English Chamber Orchestra) that I've tried with the Creek recently is beautifully rendered for sure, but noticeably less accurately all the same. Here, you can tell how the Arcam is a less transparent device, as it flattens the recording's depth perspective somewhat, giving a wide but slightly flat profile to the orchestra. Likewise, piano lacks a purity of tone you'd expect to hear from a more expensive amplifier, sounding opaque and processed. Nor is there that 'inky black' backdrop to the notes you get in some more expensive designs; there is a slight diffuseness to things and a lack of air up top. Still, that's not to say the FMJ sounds bad, for it does not. Quite the reverse in fact; it lends velveteen smoothness to strings which screech through the Pioneer A-70, gives the cellos even greater body than even they'd concede they need, and makes the general musical event highly enjoyable. You can nit-pick all day, but still this amp's innate musicality will charm you.
Conclusion
This amp faces tough competition from several recently refreshed models, but still has little to worry about. In the FMJ A19, Arcam has put together an expertly packaged little device offering the right amount of power and features, and a wonderfully musically engaging sound with a rich tonality that will suit budget ancillaries. Of course, it's not without its faults but those are of omission – it's not quite as detailed or dimensional as the best of the rest – and its strengths are compelling. It's guaranteed to get the joint jumping!
Connections
AC mains voltage selector
Accessory power socket
RCA phono MM input
Preamp output for bi-amping
Loudspeaker binding posts
FCC compliance notice

Connections
In sight
Power drivers
RF output filter
Smoothing capacitor
Headphone amplifier
Low power standby PSU
Toroidal transformer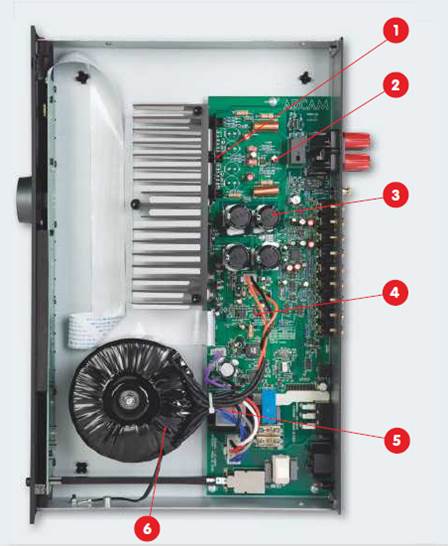 In sight
Our verdict
Sound quality: 5/5
Value for money: 5/5
Build quality: 5/5
Features: 4.5/5
Like: Genuinely musical sound; sumptuous tonality; useful features; fine build and finish
Dislike: Big bass won't suit boom speakers
We say: Surprisingly capable, affordable integrated amp that's up with the best at the price
Overall: 5/5
Arcam FMJ A19 specs
·         Origin: UK
·         Type: Integrated amplifier
·         Dimensions: (W x H x D) 432 x 275 x 85mm
·         Weight: 8.5kg
·         Features: Alphanumeric display; MM cartridge input; Preamplifier output; Headphone output
·         7 x RCA phono line inputs
·         Quoted power output: 2 x 50RMS into 8ohms