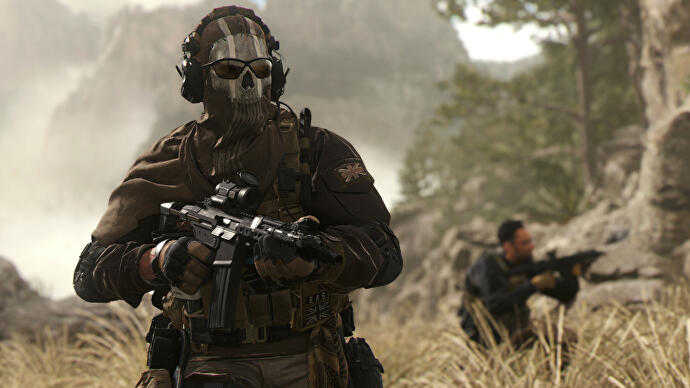 Call Of Duty: Modern Warfare 2 campaign gameplay leak clips showcase new features and hints about underwater combat.
The clip begins with the player jumping from one moving vehicle to another, shooting the driver, and then climbing into the driver's seat to take the wheel.
Again 😠 pic.twitter.com/Q2HZ2ePlSG

— • Cod Leaks • (@3rbbcod) August 30, 2022
A second clip doesn't give much away as it's mostly a close-up of a weapon, but the third sees the player swimming underwater in a dock area, possibly for a stealth mission of some sort.
GG @Activision pic.twitter.com/pBCNEaxlzZ

— • Cod Leaks • (@3rbbcod) August 30, 2022
The clip remains all over the internet, not least at the top of the Modern Warfare 2 subreddit.
New gameplay, including driving and hijacking vehicles. from ModernWarfareII
Call of Duty: Modern Warfare 2's – PC System Requirements
Minimum Requirements
OS: Windows 7 64-bit
Processor: Intel Core i5 8400 or AMD Ryzen 3 3300X
Memory: 12 GB RAM
Storage: 175 GB
Graphics: Nvidia GeForce 1060 3GB or AMD Radeon RX 580 4GB
DirectX 12 Compatible Graphics Card
Recommended Requirements
OS: Windows 10 64-bit or Windows 11
Processor: Intel Core i7 8700K or AMD Ryzen 5 3600X
Memory: 12 GB RAM
Storage: 175 GB
Graphics: Nvidia GeForce 1070 8GB or AMD Radeon RX Vega 56 8GB
DirectX 12 Compatible Graphics Card
Call of Duty: Modern Warfare 2 wiki :
Developer(s)
Infinity Ward
Beenox (Remastered)
Publisher(s)
Activision
Director(s)
Jason West
Producer(s)
Mark Rubin
Designer(s)

Todd Alderman
Steve Fukuda
Mackey McCandlish
Zied Rieke

Artist(s)
Richard Kriegler
Writer(s)
Jesse Stern
Composer(s)
Hans Zimmer
Lorne Balfe
Series
Call of Duty
Engine
IW 4.0
Platform(s)

Microsoft Windows
PlayStation 3
Xbox 360
macOS
PlayStation 4
Xbox One

Release
Microsoft Windows, PlayStation 3, Xbox 360

macOS

Campaign Remastered
PlayStation 4

Xbox One, Microsoft Windows

Genre(s)
First-person shooter
Mode(s)
Single-player, multiplayer