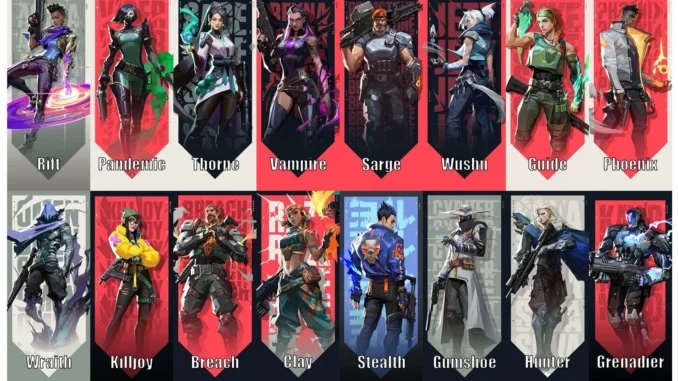 Valorant has proven to be one of the most effective tactical shooters. Riot Games unveiled a new underwater-themed map, Pearl, with the release of Episode 5 Act 1. The map contains tiny corridors, many entryways into the location, some tight corners, and numerous verticalities. Recent patches have also introduced significant buffs and nerfs to various Agents, affecting their game performance rating. Our Agent tier list for Valorant Patch 5.0 is here to help you figure out which characters to utilize in Episode 5 Act 1.
Valorant Patch 5.0 Tier List
Here are all the tiers: S Tier, A Tier, B Tier, C Tier
S Tier
The first two Agents on the list are no-brainers and regularly useful options in almost all formats. Despite the hits taken by Chamber in Patch 4.09, as well as Jett in Patch 4.08, they remain the primary elements for dropping high-frag games.
A Tier
Breach
Brimstone
Fade
KAY/O
Omen
Raze
Reyna
Sage
Skye
Sova
Viper

The A Tier list containts 13 Agents, each with clear uses for specific maps.
Fade has had a strong debut in pubs and pro play, causing headaches for aggressive defenders playing off-angles. Given that Reyna players continue to wreak havoc in roughly 95 percent of competitive games (Platinum level and lower), it's difficult to keep her out of A Tier. Keep in mind that she isn't as good at higher levels of competition.
Viper and Omen appear to be the only smoking Agents required, with the exception of Brimstone for Fracture and Bind and Astra for Split. Sova, the high-skill-ceiling Russian archer, has obviously declined in popularity since the nerf, but he still ranks first in his class on Breeze and Icebox. In general, this is an excellent time for flex/initiator players, as KAY/O, Skye, Breach, and Raze have all become essential for specific maps. Finally, Sage is nearly a must-have for Icebox.
B Tier
The four B Tier Agents are still viable, although there are clear options that most teams may prioritize.
Killjoy and Cypher are pretty specialized options, indicating Sentinels' apparent struggle at the moment, as it requires some solid setups to still gain excellent value from picking them. Despite being a rare option, Neon was rather questionably nerfed. Astra's pick rate has dropped significantly, but she is still quite useful on Split because she can smoke and delay from wherever on the map.
C Tier
Finally, Agents in C Tier are ones you almost never see in competitive Valorant matches. While some pro teams are breaking out the Yoru pick in officials, it's difficult to justify locking in Yoru in general. Phoenix is certainly the next in line as the character in desperate need of a buff. If you liked Phoenix, you might as well learn and play KAY/O right now.