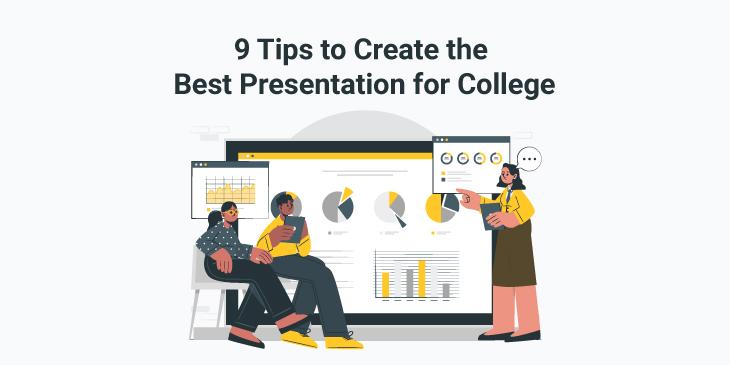 College Presentations – 9 Tips and Techniques
During your time in college, you will be asked to make a dozen presentations for yourself, your teammates, and competitions. With the help of better presentations, it is easier to impart knowledge, instill imagination, and ignite creativity.
Creating presentations is a complete mind-opening exercise in itself. It requires one to know the basics of design, technology, content, and language. It demands time and skill, which most of us find difficult to invest in.
Therefore, here are nine such tips that will help and guide you in creating an outstanding presentation for college –
Build an Appropriate Theme
The best way to go about a presentation is by finalizing the presentation design first. This includes various aspects, such as –
If you wish to create a meaningful presentation, make sure to use appropriate colors. Use a palette that has neutral tones, neither too loud nor too dull. You must use the same shade of colors throughout the presentation to maintain a consistent frame.
Fonts play a major role in determining engagement in a presentation. Use a blend of two or three fonts that synchronize well with each other. Use specific fonts for headings, subheadings, and paragraphs.
Align your content and ensure that –
All words are equally spaced on each slide.

Each slide has the same border layout.

The space between paragraphs is consistent.
Explain the Topic in Detail
Presentations help extend the dynamics of a subject, providing a chance to dig deeper into the subject and explain each topic in detail. So, when you use content, make sure it explains the basics and covers the themes in depth to provide insightful knowledge. You can add facts, short trivia, interview excerpts, related books and video links to create a wider knowledge section.
Find Ideas and Get Creative
If you want to do something that makes you the white elephant in a room full of gray ones, you must think out of the box. Consider doing something creative that intrigues the students and inspires them to learn further. You can host 'Ask Me Anything' sessions, conduct a 'Yes or No' polling round, or open rooms for a short group discussion. This will help you stand apart.
Use Relevant Visuals
One of the best ways to convey ideas is through high-quality Professional PowerPoint templates. They will help you deliver your ideas more creatively, making it easier for the audience to understand them.
Using the correct graphic with the given information is extremely crucial for a better presentation. For instance, for a comparative study, you can use bar graphs; for conclusive data, pie charts are a good option; for depicting processes and evolution, timelines are a great help, and so on.
Use Transitions, Animations, and Effects
Using transitions between your slides will help capture the attention of students and professors and creatively enhance your presentation's look.
Make sure to use effects that are not too heavy and will not take time to load. Animations that are bulky can lag during your presentation and can make it go in vain. Therefore, use effects that are easy on the slides and can attract your fellow mates as well.
Highlight Keywords and Facts
What would make a student pause and look at the presentation and learn from it? It is probably the highlighted points, keywords, and their meaning.
You can point out such terms by formatting them in bold text, highlighting them with a contrasting color, or using a different font. Make sure to explain the highlighted keywords in detail to capture the students' attention.
Think Outside the Textbook
Everybody knows what is given in the textbook, and if you go on explaining the same, nobody would be interested in listening to you. Thus, remember to include the content from outside the textbook. With innumerable sources on the internet, information has become easily accessible.
Use facts and figures that your friends might not have heard of, including data from interviews, expert panels, and questionnaire surveys. These points will help you stand out and deliver a wonderful presentation.
Use Anecdotes and Stories
Humanizing yourself can help you access people's minds and convince them in a few minutes. Tell your audience a few anecdotes, narrate stories of leaders in the given field, and use quotes. Doing so will help them retain the information quickly.
For instance, if your presentation is about marketing, explain it with the help of examples from Apple, a company most students seek inspiration from. Such stories will help them relate more to your content.
Cater to Those Who Know Nothing
Cater to the ones who do not know much about the subject. Include the basics of your topic in the presentation and gradually upscale its level. This will allow you to serve the needs of all the students who know nothing and those who know it all.
Conclusion
Drafting presentations for college can be tricky, as the audience is widespread with different levels of attention of their own. As much as one student would love to listen to you, the other would constantly look for escape windows. Thus, curating a presentation that balances both of them is extremely important.
We hope that these tips help you create a flawless experience for your college presentations.