Are the Fortnite Servers Down Right Now?
More than two hours ago, Epic Games stated that they were investigating issues where some players are unable to log in on Xbox and PlayStation consoles. Here's the tweet below:
We're investigating an issue where some players are unable to log-in on Xbox and PlayStation consoles.

Will provide more info when we have a fix. pic.twitter.com/0uKLOfLX0K

— Fortnite Status (@FortniteStatus) May 10, 2022
What is the Fortnite Esp-buimet-003 Error code ?
When trying to log in on Xbox One X|S, PS4, PS5 players receive a red error box with the following text: "There was an error connecting to the Epic servers. Please try again later" .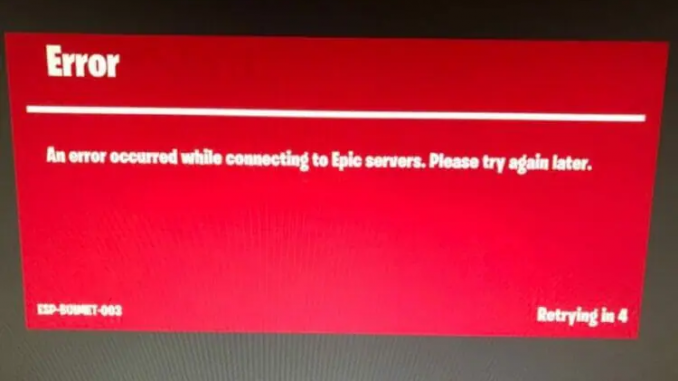 How To Fix The Fortnite Esp Buimet 003 Error Code ?
Earlier this year, an independent advisor for Microsoft suggested the following ways you can fix the Fortnite error code ESP buimet 003:
Remove and re-add your account

Sign out of your account and remove it from your console; then you'll need to go through the new user process to log in and add it back to your console.

Power cycle your console

By holding down the power button and unplugging it, you will need to wait two minutes before restarting it.

Clear local game saves and persistent storage

On PlayStation, this can be done by going to the Save Data and Game/App Settings and deleting the specific files you want to get rid off – Fortnite-related ones.
On Xbox, you can do this by selecting the "Clear Local Saved Games" option and the "Clear Persistent Storage" options from the Storage settings and the Disc & Blu-Ray settings.
Fortnite wiki :
Genre(s)
Survival, battle royale, sandbox
Developer(s)
Epic Games
Publisher(s)
Platform(s)
Windows,

macOS,

Nintendo Switch,

PlayStation 4,

PlayStation 5,

Xbox One,

Xbox Series X/S,

iOS,

Android

First release
Fortnite: Save the World
July 25, 2017 (early access)