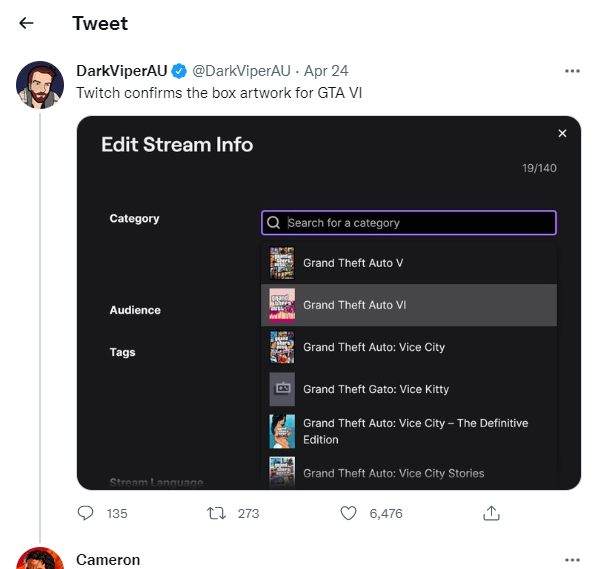 Grand Theft Auto 6 Twitch Leaked ?
Fans think the GTA 6 logo was leaked on Twitch, but things may not be what they seem. Earlier this year, Rockstar Games confirmed that the next Grand Theft Auto is in active development and will have more to share in the future.
When is the GTA 6 released ?
Rumors have suggested that GTA 6 will will release roughly 2 – 4 years from now, but with Rockstar having opened the can of worms that it is actively working on the game, it's possible it could be revealed this year.
GTA wiki :
Genre(s)
Action-adventure
Developer(s)
Rockstar North
Digital Eclipse
Rockstar Leeds
Rockstar Canada
Publisher(s)
Rockstar Games
Creator(s)
David Jones
Mike Dailly
Platform(s)
Android
Dreamcast
Fire OS
Game Boy Advance
Game Boy Color
iOS
macOS
Microsoft Windows
MS-DOS
Nintendo DS
Nintendo Switch
Oculus Quest 2
PlayStation
PlayStation 2
PlayStation 3
PlayStation 4
PlayStation 5
PlayStation Portable
Windows Phone
Xbox
Xbox 360
Xbox One
Xbox Series X/S
First release
Grand Theft Auto
28 November 1997
Latest release
Grand Theft Auto: The Trilogy – The Definitive Edition
11 November 2021