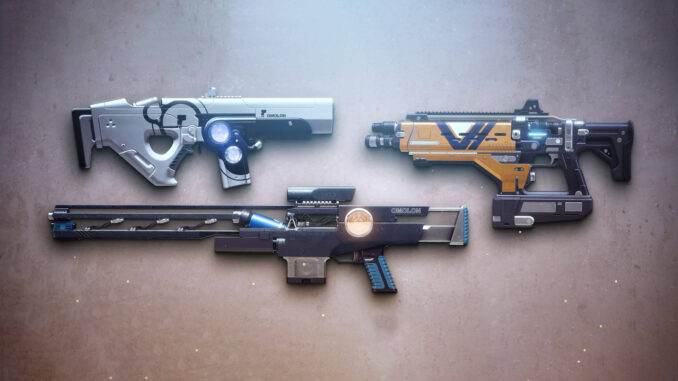 Nightfalls can be one of the most challenging activities in Destiny 2 on higher difficulties. Luckily for Guardians, they come with rewards to match. Each week, at least one Nightfall weapon will be in rotation and can drop from completing Nightfall.
Season 17 Nightfall weapons :
Bungie released the following Nightfall weapons in Season of the Risen:
Duty Bound – Auto Rifle
Silicon Neuroma – Sniper Rifle
What is the Nightfall Weapon this week in Destiny 2?
This week the Nightfall is Proving Grounds and the Nightfall weapon this week is the Silicon Neuroma Legendary Sniper Rifle.
Nightfall: Master
All previous modifiers
Master Modifiers
Champions: Mob Locked Loadout Match Game Extra Shields.
Champions: Mob
This mode contains additional Champions.
Attrition
Regeneration is greatly impaired. Defeating enemies may create wells of Light.
Nightfall: Legend
All previous modifiers
Equipment Locked
You will not be able to change your equipment after this activity starts.
Match Game
Enemy shields are highly resistant to all unmatched elemental damage.
Shielded Foes
You will face combatants with [Arc] Arc and [Solar] Solar Shields. Activity modifiers may add more shield types.
Legend Modifiers
Locked Loadout Match Game Extra Shields.
Nightfall: Hero
All previous modifiers
Champion Foes
You will face [Shield-Piercing] Barrier and [Stagger] Unstoppable Champions. You must equip Anti-Barrier and Anti-Unstoppable mods to your arms armor to defeat them. These mods come from the Seasonal Artifact.
The Closer
When targets are nearby, you have improved slide; after sliding, your ranged weapon attacks deal increased damage for a short time.
Nightfall: Adept
Empath
Enhanced radar. Take increased damage from melee.
Acute Solar Burn
+25% Solar damage dealt and +50% Solar damage received.
Destiny 2 Nightfall Weapon Schedule
The current Nightfall weapon always changes at the weekly reset at 5pm UTC, every Tuesday. There are eight weapons currently in rotation in the Nightfall loot pool. They are:
The Hothead
The Comedian
Duty Bound
The Palindrome
Plug One.1
Silicon Neuroma
Destiny 2 wiki :
Developer(s)
Bungie
Publisher(s)
Director(s)

Christopher Barrett
Luke Smith
Ryan Ellis

Producer(s)
Patrick O'Kelly
Designer(s)

Del Chafe III
M.E. Chung
Tyson Green
Sage Merrill
Christopher Opdahl
James Tsai

Artist(s)
Writer(s)

Jason Harris
Christine Thompson

Composer(s)

Michael Salvatori
Skye Lewin
C Paul Johnson

Platform(s)

Microsoft Windows
PlayStation 4
Xbox One
Stadia
PlayStation 5
Xbox Series X/S

Release

PS4, Xbox One
September 6, 2017
Microsoft Windows
October 24, 2017
Stadia
November 19, 2019
PS5, Xbox Series X/S
December 8, 2020

Genre(s)
First-person shooter, MMOG
Mode(s)
Multiplayer
The Latest Games News : Release date , Patch Notes , game events & update , Game Leaks & up comming .