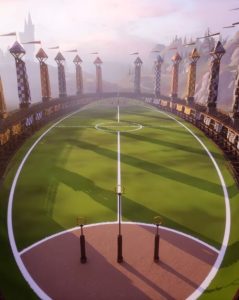 A recent leak provided fans with their first look at gameplay footage from the upcoming Harry Potter game, Quidditch Champions.
Gameplay footage for Harry Potter: Quidditch Champions has been leaked
Just over a month ago, WB Games revealed that it was developing a new Harry Potter game that would focus solely on the fictional sport of Quidditch. After making that public announcement, WB Games began conducting private playtesting of Quidditch Champions with a small group of players. And now, it appears that one such player has revealed crucial information about the game's mechanics.
Videos posted by a playtester on the official Quidditch Champions subreddit gave fans their first look at the game. Clips from various Quidditch matches, in-depth looks at the flight controls, and a rough concept of character customization were all showcased in these videos. These videos serve as our first look at Quidditch Champions in action, as WB Games has yet to publicly showcase any gameplay from the game.

The major issue with this Quidditch Champions gameplay footage is that it was never intended to be released in this manner. Despite being bound by an NDA, whoever leaked this Quidditch Champions gameplay apparently believed they could do so without consequence. Although the post has since been removed, it is clear that no one at WB Games wanted this to happen, and whoever leaked the information is in big trouble as a result.
At the moment, no specific release date for Harry Potter: Quidditch Champions has been announced. However, as these playtests continue in the coming weeks and months, we should start to learn more about when Quidditch Champions will be available to play around the world.
About Harry Potter: Quidditch Champions
Unbroken Studios' Harry Potter: Quidditch Champions is an upcoming sports video game published by Warner Bros. Games under the Portkey Games label. Quidditch, a Harry Potter-related sport, is the focus of the game. The player takes control of a Quidditch character and engages in broomstick adventures as well as competitive multiplayer modes.