Finding stuff can be a pain, but not with our handy hints
Quickly find a person The Search field in Mail in OS X 10.8 is a little simpler than it was in previous versions, but it hasn't lost anything in the way of sophistication. On the contrary, now when you type a phrase or a name, it actively suggests what you might be looking for. Under 'People' it will show a list of email addresses that match your search term, fully or partially. Simply select an address to show all messages from that person. You can click the 'From' arrow to switch views to see messages to that person, or any mail in which that person's name appears. Alternatively, you can also choose to view search results in Subject fields, and in attachment names using click on any email address in a message for the option to add it to your Contacts list.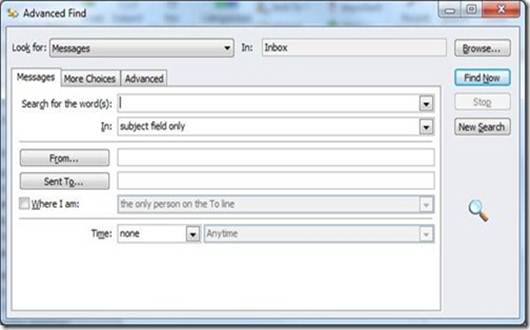 When you type a phrase or a name, it actively suggests what you might be looking for
Spotlight is your friend Don't forget that Spotlight can search all kinds of data from inside Mail, so if you enter a search term into Spotlight in the Finder, it will pop up any messages it finds containing that search term or contact name. Simply click on a message in Spotlight to open it in Mail. In Mountain Lion, you can mouse over Spotlight results and see a mini preview of the content. Additionally, in the case of Mail, it shows you the whole message in a small window complete with clickable links and associated attachments.
Find your biggest attachments In the message viewer, right-click on the column header and choose to add 'Size' as a column. Then click on the Size header to sort the message list by size and you will find that it's easy to see your messages in descending size order this should help you quickly identify and archive, move or delete any big mails you have languishing in your inbox.
Search individual mailboxes Sometimes you want to search a specific mailbox rather than the whole library. Enter your term into the Search field at the top-right of Mail and then you will see the mailbox selector at the top left change colour and go blue. Now you can select where to search, as well as VIP, sent, flagged and draft mails. To search a specific inbox the procedure is slightly different and you have to select the mailbox, perform the search and then choose Search: Inbox to restrict searching to that one inbox.
Get account info If you right-click on a mailbox and then select Get Account Info, you will see a summary of that mailbox including its behaviours and whether any messages are left on the server. In the case of IMAP mailboxes such as Gmail, you will be able to see available and used space, quota limits and a list of all the folders in your account sorted by size. This is really useful for understanding how your mail space is being used.
How do I back up my emails? Apple doesn't provide a simple way to do this but luckily it's not too difficult to get around. You need to go to the Mail folder located in /Users/username/Library/Mail, where you will find your mail database. Its name will depend on your version of Mail but it will probably be at least a few hundred megabytes in size if you have been using Mail for a while. You can simply copy this folder to an external drive to back up the entire database. If you are backing up with Time Machine as you ought to be, you can open Mail then enter Time Machine and go back to any snapshot of any mailbox. Mails can be restored back to the present like any other file.
Time Machine
Use Mail with iCloud
Use iCloud to access your Apple mail on all your devices
Set up mail for iCloud On Mail in OS X 10.7.2 and iOS 5 or later, you can use mail in iCloud. Go into the System Preferences on your Mac and choose the iCloud section, then click to turn on the Mail option. You are prompted to create an iCloud email address, which cannot be changed after creation. On your iOS device, go to Settings > iCloud and sign in with either your Apple ID or your me.com email address. Your mail should now sync across all your devices. Mail sent to this address will be pushed to all signed in iOS devices and you also get notifications of new messages across devices.
Set up iCloud on your Mac running OS X 10.7.2 or later and you can sync your icloud.com email across iOS devices
Use aliases in iCloud If you sign into your iCloud account via a browser, you can set up mail aliases by going into Settings > Accounts and adding an alias. These will forward to your main account but they can be any name you choose, so they're ideal for using when you don't want to give out your real address. If you do start getting spammed, simply delete the alias and the spam has nowhere to go. Mail rules and auto responders are also supported so you can manage iCloud mail as easily as messages on your Mac.
Set up Mail on your iOS device You can still use iTunes to sync accounts over from Mail on your Mac, to Mail on your iOS device, either over a USB cable or wirelessly on iOS 5 or above. It's almost as easy to set up manually on the device itself. Go to Settings > Mail, Contacts and Calendars them click Add Account. There are easy options for iCloud, MS Exchange, Gmail, Yahoo, AOL and Hotmail accounts that will do much of the setup for you. If you click 'Other' you can set up your own account from scratch, complete with server settings, and also set up LDAP and CalDAV accounts.
Send mail from iOS Emailing stuff to people can be a quick and easy way to share everything from pictures and videos to Office documents. From your iOS device, there's generally an option to share something by email. Up to five pictures or one movie can be shared per mail, and smaller documents can also be copied and pasted into messages in many cases. Attachments to mails in iOS can be tapped and help to choose to open them in another app, attach them to a new mail or Quick Look them.
Set up an alias by logging into the Preferences of your iCloud Mail account – great for spam protection
Use IMAP mail for backup A clever way of quickly backing up a file or folder is to simply email it to an IMAP account that you have access. So for example you could send yourself an email with a Word document attached to make sure it was backed up and to be able to access it from your mobile device.
Manage your iCloud storage Every iCloud user gets 5GB of free storage space on Apple's servers but if you have a Mac, iPhone and iPad this can start to fill up. Sending iCloud mail with attachments can use up space quickly as well. Go into System Preferences > iCloud and click the Manage button. Here you will see exactly how much space Mail and backups as well as other apps are using, and this can be accessed from an iOS device too. Click on Change Storage Plan and you can add more storage relatively cheaply, up to a total of 55GB.