Amiko's Linux-based Alien 2+ boasts two satellite tuners and one terrestrial tuner – all of which are HD-ready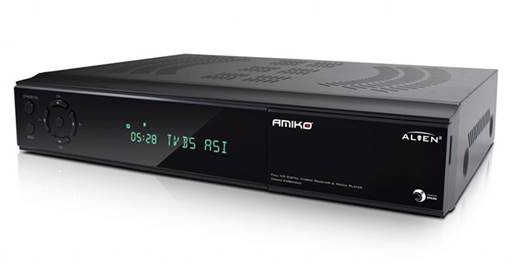 The opposition
Golden media Uni-box 2 HD
This non-Linux HD DTT/ sat receiver is much cheaper, but only has one satellite tuner and lacks online functionality CI slot provided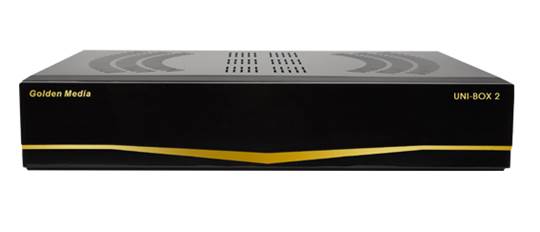 Technomate TM-7102 HD-T2 Super
An identical tuner arrangement, but provision for internal HDD. Some online content. Non-Linux, and considerably more expensive

There's always going to be a point when a conventional dual-tuner box runs out of stream. Let's say you're watching an enthralling European documentary on Arte HD. But then you remember that another interesting program is on BBC2, and you'd like to record it for future viewing. Unless the receiver's tuners are fed independently by two dishes pointing at 19.2E and 28.2E, there's little you can do. The Alien 2+ gets around this problem by embedding a third tuner for terrestrial channels; naturally, a decent rooftop aerial and suitable coverage are essential here.
Build and connectivity
The well-specified Alien 2+ has a DVB-T2 compliant tuner for terrestrial HD transmissions, and cable is also supported. These tuners can be configured for the same dish, or two different ones. DiSEqC 1.2/USALS motorized mounts are supported too. Yet for all this power the Amiko is quite ordinary looking.
Under the obligatory front panel flap reside a USB port and two card slots for the embedded Conax CAM. There are no CI slots, and so other CAMs are denied to you unless some kind of emulation is available. Interestingly, this isn't out of the question thanks to the Amiko's 'split personality'. It can 'boot' into one of two very different firm wares. As supplied, you get the default 'Spark' and a 'port' of the Enigma2 that will definitely be familiar to Dream box users.
Cramming all those connector onto the rear panel has practical disadvantages. In particular, the LNB and loopthrough sockets are bunched together. Very close to these are the aerial input and output, which are not as troublesome as they're push-fit connectors. There's also a second USB port, which is ideal for a storage device like an external hard drive.
An alternative is to use networked storage, and to this end there's an Ethernet port (Wi-Fi is also supported, via an optional USB dongle). Networking is also necessary for the online functions we'll discuss later. AV connectivity takes the form of a HDMI port, which supports 1080p and Dolby Digital bit streams. Analogue alternatives are RGB-capable Scart and composite video, all of which are complemented by analogue stereo and coaxial/optical digital audio.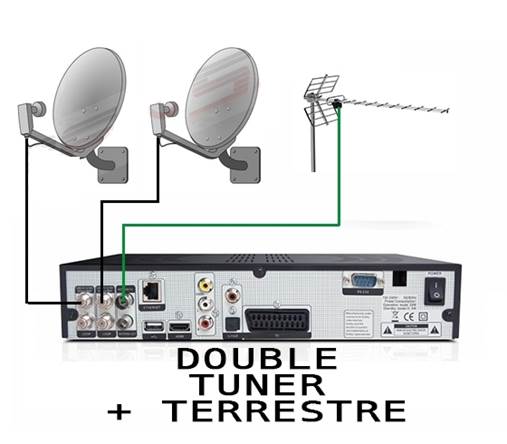 Set up
Getting the Alien 2+ going is simple, thanks to Spark's attractive and sensibly organized user interface. Go to the install menu, and you're presented with satellite and terrestrial options (a 'tuner configuration' menu switches the third tuner between cable and terrestrial). The 'satellite install' menu lists birds' available for configuration, and can automatically identify the appropriate DiSEqC switch positions. A satellite edit menu covers LNB settings, motorized dishes and tuner configuration (for dual-LNBs).
Next to this is a 'transponder' menu for editing, adding or scanning individual transponders. If you'd rather scan an entire satellite, this is, of course, also possible. You can choose various permutations of radio, TV, FTA or all channels with or without network or blind scanning. The latter, which hunts down transponders and then searches them, has a cool 'spectrum' display. Multiple satellites can be scanned by 'checking' their entries on the list, although the blind mode is disabled under such circumstances.
Another setup menu, 'install', covers AV (HDMI/analogue output, aspect ratio and digital audio), language, font, time and parental controls. Internal web and FTP servers can be engaged from a separate 'net setting' menu, in addition to the detection of a network drive (for recording/multimedia) and basic access parameters. We had a problem getting the Alien 2+ to work with our network, although other devices worked with this particular port. A different hub solved the problem.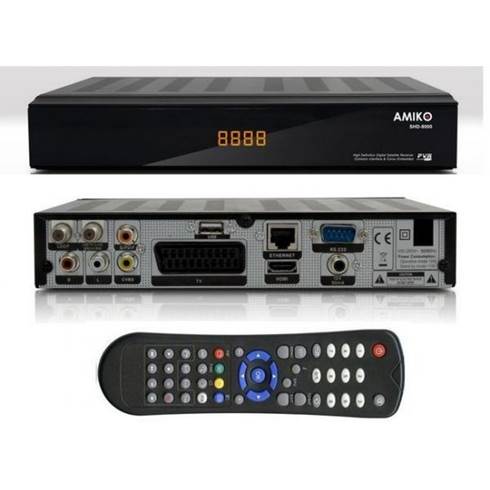 Basic use
Pressing the pleasantly-designed handset's 'OK' button invokes the channel list, which can be sorted by HD status, encryption, provider, satellite or alphabetically. 'All channels' can be listed too. Another option, labeled 'broadcaster', switches between satellite and terrestrial/cable channels. An alternative to the list mode, the 'TV Wall', displays a 'grid' of channels with logos downloaded from the internet.
Placing channels into the 32 favorites lists is an easy matter, a menu being devoted to this task. Also worth mentioning is the channel finder, which invites you to enter one or more characters of its name. It only finds channels on the currently selected satellite, though.
The EPG, which can handle up to nine channels onscreen simultaneously, is compatible with Cross EPG as well as the usual DVB-derived schedules. A nice touch is that you can have an EPG list of your favorite channels. Naturally, setting the eight-event timer form the EPG is a cinch. Although soundtrack selection and teletext are handset driven functions, no provision has been made for UK-specific 'red button' services. To save power, going into standby effectively shuts down the receiver. Restarting thus takes over a minute. A 'lite' standby alternative is quicker, but is more power hungry.
Features
·         No. LNB inputs: 2 (extended IF, 22 kHz)
·         LNB loop through: Yes
·         No. aerial inputs: 1
·         Aerial loop through: Yes
·         DiSEqC: Level 1.0/1.1/1.2/1.3 (USALS)
·         No. channels: Dependent on memory usage
·         Selectable FEC: Yes
·         Symbol rate: 2 – 45Msps
·         Lind search: Yes
·         Linux: Yes
·         CAM: Card reader (Embedded CAM supports Conax)
·         Common Interface: None Teletext: DVB decoded
·         EPG support: DVB 7-day or 'now/next', OpenEPG
·         Timer: 8 events
·         Hard drive: None (USB/network recording)
·         UHF modulator tuning: N/A software upgrade: Network or USB
·         Data ports: 2x USB 2.0 (1xrear-panel, 1 x front panel). RS232 serial, Ethernet
·         SD out: TV Scart (composite/RGB), composite video phono
·         HD out: HDMI
·         Audio out: HDMI, optical/coaxial digital audio (Dolby Digital Bitstream compatible), Scart analogue, analogue phono
PVR and multimedia
The recording facilities are mostly well thought out. It's possible to record and view programmers on different transponders, thanks to the multiple-tuner arrangement. As with most other Linux-based receivers, simultaneous recording and viewing of channels carried by the same transponder is also permitted. The channel list shows you what's available any channels you can't receive are 'grayed out'. You can also access the media player while a recording is in progress. This can handle a good number of video formats (including its own recordings) while switching between USB and networked storage is easy.
Any current recordings are inaccessible, although you can play existing ones. If 'chasing playback' facility is desired, then, you're instead advised to use the 'time shift' facility which is invoked with dedicated handset keys. The only significant limitation is that a maximum of two recordings can take place simultaneously, even if your storage device is a USB hard drive. A third channel can, however, be viewed. The unit shares its own drives on the network, meaning that computers and media players can access your recording. A nice touch as is the fact that terrestrial HD recordings are accessible to the wider world (something that's not true of pukka Freeview HD PVRs)
Press the handset's prominent 'portal' button, and you're whisked away to a world of downloadable Spark 'apps'. Categories here include video (mostly overseas broadcasters). Sports, shopping and news; a handful of simple games are also available. The Spark portal is built around the Opera web browser; press the Menu button, and a row of icons provide additional web-related functions. Among them is 'O' button, which graphically depicts popular websites (such as Google, eBay, Sky News, Facebook and Twitter). It's rather slow and unresponsive when compared to visiting these sites on a PC or modern smartphone. The Amiko's 450MHZ CPU really isn't fast enough by current Smart TV expectations and the lack of bookmarks is annoying. Apps, which are optimized for the platform, run at a much more acceptable speed.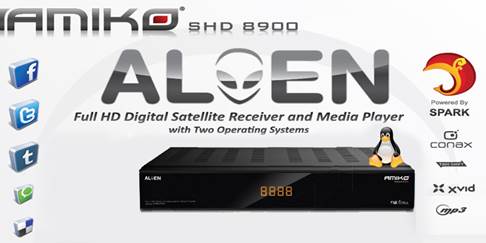 Performance
Searches were fast, and the tuners held onto signals with a limpet-like grip. Picture and sound quality, especially from HD channels, are truly excellent. The New Year's Day Concert form Vienna, broadcast on BBC HD looked stunning as the musician's manuscripts, the Musikverein Golden Hall's intricate interior and an outdoor performance all demonstrated excellent detail and extremely solid images. Both satellite and terrestrial simulcasts had a similarly-fine visual balance, but 5.1 audio was only available from the satellite feed.
Standard-def channels of high quality and multimedia files hold their own – even when upscaled to HD. Poorer quality material is alas ruthlessly exposed!
Verdict
Overall, we're rather taken with the Alien 2+ as a digital broadcast receiver and media player. Those three tuners, a worthwhile EPG and decent recording capabilities – albeit with external storage add up to real flexibility. Its portal and web browser are limited, and more computing power is needed for it to run more responsively. But maybe we're nit-picking here. As the Alien represents great value.
Connectivity
LNB 1 input and loop through output
LNB 2 input and loop through output
Aerial input and loop through output
Ethernet and USB ports
HDMI output
Composite video and analogue audio outputs
Coaxial and optical digital audio outputs
Scart socket
RS232 port
Mains switch
In the box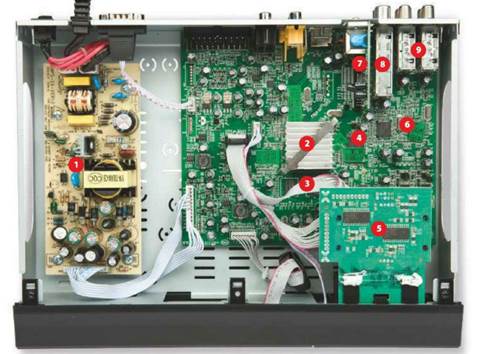 Switch-mode power supply
STi STi 162 multifunction 'jungle chip'
Flash memory chips
SDRAM chip (128MB)
Card slot PCB
DVB demodulator chips
Ethernet port module
Sharp DVB-T2/C tuner
2x Sharp DVB-S2 tuners
Ratings
Plus
Easy to drive, thanks to excellent user interface
Triple-tuner arrangement provides unprecedented flexibility
High standard of AV performance
Minus
No provision for internal HDD – network or USB recording
Opera web browser runs at a snail's pace
A maximum of two simultaneous recordings and eight timer events
Build: 8 stars
Setup: 8 stars
Searching: 9 stars
Performance: 9 stars
Features: 9 stars
Value: 9 stars
Overall: 87%
Test and measurement
Power usage
The efficient standby mode greatly increase start-up times and prevents use of the recording timer
In use: one LNB: 16W
In use: two LNBs: 18W
Standby: 14W
Deep standby (default) : <1W
Search: 280E
On a par with most FTA hardware and considerably faster than most Linux receivers
FTA scan: 3m39s
Full scan: 3m41s
Blind search: 7m0s
Search: 190E
Speedier than most Linux receivers, the blind search ranks among the fastest of any current product
FTA scan: 3m26s
Full scan: 3m37s
Blind search: 5m34s
Search: 130E
Again, impressive timings. Note that the search times for FTA and all channels are practically identical
FTA scan: 3m8s
Full scan: 3m7s
Blind search: 5m42s
Video formats
MPEG-2: yes
FLV: yes
DIVX: yes
XVID: yes
MKV: yes
MOV: yes
MP4: yes
WMV: yes
Specifications
·         Size (WxHxD): 300mm x 64mm x 231mm
·         Net weight: 2.0 KG
·         Operation Temperature: 00C~+450C
·         Storage Temperature: -100C~+700C
·         Storage Humidity: 5%~95% RH