High-end amps without heavy duty price tags? Cambridge Audio updates its flagship pre/power amplifier package with the latest iteration of its Class XD technology
When you've an established reputation for class-leading budget and midmarket hi-fi separates, every now and again it's worth reminding your rivals that you can also hold your own in the big league. And with this newly released pre/power amp duo that's exactly what Cambridge Audio has done, and with sensible prices to boot.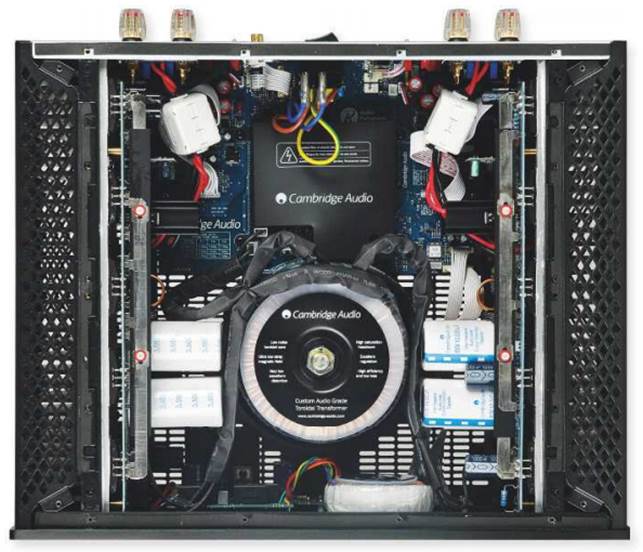 Five pairs of Sanken power transistors are employed per channel, all mounted on internal heatsinks that are vented through the 851W's perforated casework
These new 851E/851W amplifiers are the latest additions to CA's flagship Azur 851 range, joining the 851A integrated, 851C DAC/CD player and recently released 851D upsampling DAC.
More facilities now
The 851E preamplifier replaces the outgoing 840E and brings with it a greater wealth of connectivity than its predecessor. You get eight analogue inputs, with three shared over balanced (XLR) and single-ended (RCA) connections – but there are no digital inputs. You also get pre-outs served over balanced and single-ended connections, which join a pair of fixed level single-ended and subwoofer outputs (RCAs), alongside trigger connections for linking to other CA separates. The front panel's 6.35mm headphone socket is another bonus that I'm sure will be welcomed by many listeners.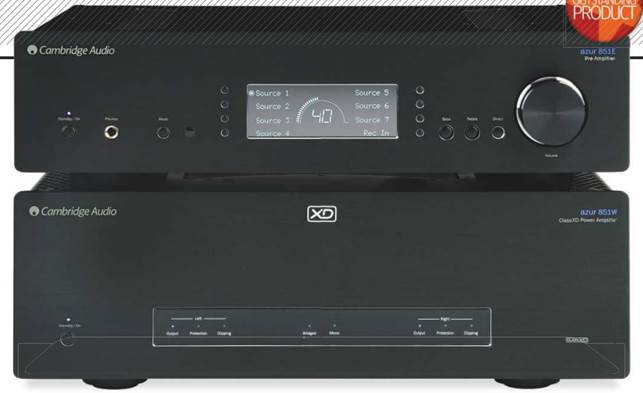 Nicely laid out soft-touch controls and backlit screen makes the preamp a breeze to use via its front panel or the supplied remote control. Screen can be turned off too, if desired
The 851E also updates the 840E with a few technical changes. Whereas the 840E used a resistor ladder and relay design volume control, the 851E employs a multiplying DAC chip, meaning its rotary control is digitally governed. This brings improved levels of reliability and lower noise, says Cambridge Audio. Meanwhile, both amps make use of CA's Terrapin impedance buffering modules, which claim to improve stereo separation and imaging compared to more commonplace op-amps.
Weighing in at a whisker over 19kg, the 851W power amp's heft is largely due to its two toroidal transformers. The smaller of these supplies the 851W's sensitive input circuitry, leaving the main power amplifier duties to the larger toroid, which is specially wound to reduce interactions between each channel's output windings.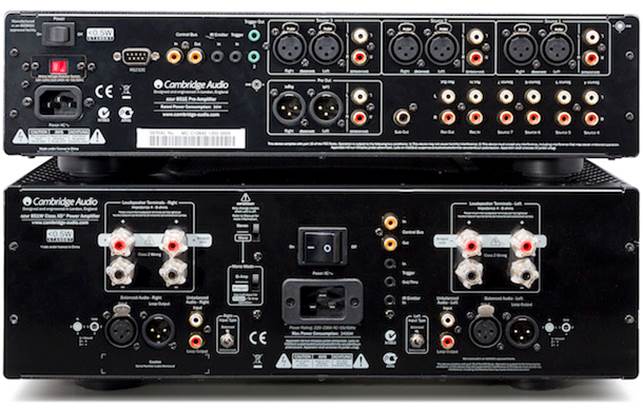 No shortage of analogue inputs here, with lots of single-ended (RCA) and balanced (XLR) options to choose from on the preamp [top]. The power amp can be set to stereo, mono or bridged mono, so you can add more amplifiers down the line
With ten Sanken transistors per channel, including a pair per side for the Class XD's dynamic biasing, the 851W's casework can get a bit toasty to the touch. All of the power amp's heat-sinking is housed within the unit's mostly alloy casework – this is heavily perforated to allow for heat dissipation, which adds to the unit's stealthy appearance.
The 851W's rear panel hosts a pair of single-ended (RCA) and balanced (XLR) inputs per channel, selected via discreet toggle switches. There's also a balanced (XLR) pass-through socket per side, a large mains switch and trigger connections for linking the power and pre together.
Each of the 851W's speaker outputs gets two sets of quality multi-way binding posts, although they're quite close together, so you'll need to be careful when clamping down spade connectors or bare wire. Like its preamp sibling, the power amp offers configuration options aplenty, selected via switches on its rear panel.
You can run it in stereo mode driving a pair of speakers via single or bi-wired connections, as a monoblock in a bi-amped configuration, or as a bridged monoblock, which increases its output to around 500W [see Lab Report]. With all this juice on tap, CA has sensibly installed its CAP5 protection in the 851W, to help it steer clear of DC spikes, overheating, short-circuits and clipping.
Both amps feel solidly built and well finished, sporting 7mm-thick alloy faceplates in matching brushed silver or black. In use the preamp is intuitive to control, thanks to its backlit screen and sensibly laid out front panel (copied from its integrated cousin). A quick press of the 851E's standby button brings both amplifiers to life when linked up via their control bus sockets.
The preamp's inputs each receive their own select buttons and a second press on inputs 1 to 3 lets you toggle between balanced and single-ended signals. The preamp's features continue with bass and treble trim pots, and a 'Direct' switch for the purist. Each input also has its own submenu, allowing you to name inputs and set gain levels individually.
A quick push on the preamp's 'Mode' button shifts the rotary dial from volume to balance control, while a longer push takes you into a deeper menu of extended features, including screen brightness levels and configuring auto-standby settings to switch the amps into and out of standby when sensing/not sensing an audio signal.