There are two kinds of disks in Windows Small Business Server 2011: basic disks and dynamic disks. Basic disks are the conventional disks we're used to. Dynamic disks were introduced in Windows 2000 Server and support additional management and agglomeration options.
Basic disks support two kinds of partitions: primary and extended. Extended partitions are deprecated in Windows Server 2008, though they can still be created from the command line using Diskpart.exe. And any existing disks you have with extended partitions will be recognized without a problem. If you need to create a disk with many different volumes on it (more than four), create the disk as a GPT disk rather than an MBR type.
Dynamic disks use volumes instead of partitions and support the additional management, redundancy, and agglomeration features of SBS, including Spanned Volumes, Striped Volumes (RAID-0), Mirrored Volumes (RAID-1), and RAID-5.
The primary method for managing disks on an SBS server is the Disk Management console. This can be used as a stand-alone console by running Diskmgmt.msc from the command line, or from Server Manager as shown in Figure 1.
Figure 1. The Disk Management console from inside Server Manager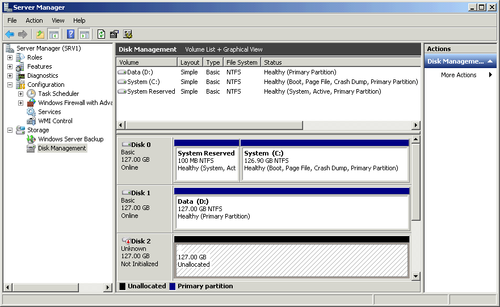 The Disk Management console is divided into two panes. The top pane shows the drive letters (volumes) associated with the local disks and gives their properties and status; the bottom pane has a graphical representation organized by physical drive.
REAL WORLD: Hardware RAID
Although Disk Management provides a software RAID solution, hardware RAID is widely available for a reasonable cost, from either the original server vendor or from third parties, and it provides substantial advantages over software RAID. Hardware RAID solutions range from a simple RAID controller to fully integrated, stand-alone subsystems. Their features vary, as does their cost, but all claim to provide superior flexibility, performance, and reliability over a simple software RAID solution such as that included in Windows Small Business Server 2011. In general, they do. Some of the advantages they can offer include
Although not all hardware RAID systems provide all the possible features, they all have the potential to improve the overall reliability and performance of your hard disk subsystem. With SBS being predominantly a single-server environment, you have your entire business running on that single server. This makes hardware RAID a particularly sound investment for your SBS server.
Many NAS systems are built on hardware RAID, providing an easy and cost-effective way to expand your original server storage in a highly fault-tolerant way. However, it pays to look closely at exactly what you are buying—some systems are built on RAID-0, which is not fault-tolerant at all and actually increases your risk.
We briefly mentioned storage area networks (SANs) earlier. Although they are excellent, fast, flexible, and highly fault-tolerant, they have traditionally only been for those with really large IT budgets. Plus, they have been rather tricky to implement and configure. With the wide availability of affordable software iSCSI solutions—including third-party software iSCSI targets—and solutions based on Windows Storage Server, this is changing. If you're implanting SBS in a virtualized environment, a SAN solution is a much better choice than a NAS solution.
Windows Storage Server 2008 R2 Essentials
A new player in the stand-alone storage market is Windows Storage Server 2008 R2 Essentials (WSSE). Designed to provide a single storage location and backup solution for the home business and small business markets, WSSE is based on Windows Server 2008 R2 and provides many of the functions of a NAS server. WSSE uses the same code base and technology as Windows Home Server and Windows Small Business Server 2011 Essentials, but it's designed to integrate into existing SBS networks to provide flexible storage and client backup. WSSE provides a flexible secondary storage solution that also does client backups really well. Now if it only included iSCSI target functionality, it would be perfect.
While limited to backing up 25 client PCs or fewer, WSSE provides a simple interface and flexible storage for extending SBS networks, and it's the clear choice for client backup of key workstations. For SBS networks with more than 25 client PCs, multiple WSSE servers can be used.